'Feringa has opened up a new world for our pupils'
| | |
| --- | --- |
| Datum: | 09 december 2016 |
| Auteur: | Riepko Buikema |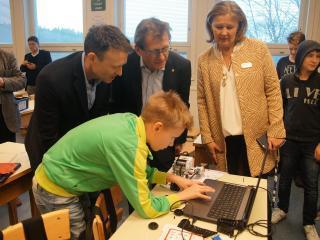 Samuel is starting to panic. He's beginning to sweat in his green tracksuit top. Hastily he tries everything he can think of to get his home-made electric Lego car to go. Go figure – the moment the famous Nobel Prizewinner finally appears at his table and is ready for the demonstration the vehicle refuses to start. 'It worked a moment ago!'
Luckily Ben Feringa is a patient observer. When Samuel to his great relief manages to get the car to move across the floor, an enthusiastic shout rings through the classroom. 'Great!', cheers Feringa.
And on he goes, passing through every classroom in the Grimstagatan primary school, which teaches children from very different backgrounds. 'No fewer than 43 different languages are spoken here', says headmistress Marita Svahn. By offering lessons in English and Swedish and paying attention to technological skills, the school tries to increase its pupils' chances of a fruitful future.
I can't think of a better place for Feringa's visit. He spends time with every single pupil. The tiniest pupils with their home-made welcome signs are each shaken by the hand. The poor boy who apologises for his broken English is immediately put at ease by Feringa. 'Your English is fine', he says and puts his hand on the boy's shoulder.
He takes his time with Hossein, who with two classmates is demonstrating the floating power of an aluminium boat. The boy counts out loud how many marbles are needed to make the boat sink. Ninety-two marbles later the boat finally sinks, with Feringa still standing relaxed next to the table.
When the professor finally makes a move towards the next classroom, Hossein throws another weapon into the fight to maximize his time with Feringa. 'I have one little question', he says while looking at the picture of the nanocar on the wall, 'how did you manage to do that?'
'That's my secret', whispers Feringa conspiratorially. 'When I was a boy I always wanted to build cars at school, but it wasn't allowed. So I did it at university instead. If you also like doing that, you should come to my classes.' It is a quip with a serious undertone. You too, dear children, have the chance to have a wonderful career.
And during his lecture in the main hall: 'Everyone has his own talents. I used to be very bad at English. And you definitely don't want to hear me sing! Just follow your dreams and enjoy yourself. Don't make things too easy for yourself. Value your teachers and ask them questions. And don't be afraid to get lost. You discover the most wonderful things in strange places.'
English teacher Annika Lööw summed up Feringa's visit perfectly. 'These children have no knowledge of the world of science or the Nobel Prizes. That is just out of their league. Feringa has opened up a new world for our pupils.'