Roadmap Sustainability
As a socially responsible institution, the University of Groningen has set itself the goal of promoting sustainable development in every aspect of University operations. This includes sustainable development in teaching and research, as well as excelling in sustainable business operations. In addition, the University hopes to set an inspiring example, promoting sustainability in a transparent way and actively involving and facilitating students in sustainable activities.
Ambitions (roadmap 2015-2020)
The UG strives to be a healthy and CO2-neutral university. This will be achieved by working to establish an inspiring, healthy, sustainable environment in which staff and students can work, study and live. The path towards a CO2-neutral university in 2020 will require huge efforts in terms of efficient energy consumption and increased energy production from renewable sources. To realize this goal, we have established the following sub-goals in the area of People, Planet and Performance:
People: The University of Groningen strives to be healthy and dynamic
Promote sustainable employability of staff.
Promote inclusiveness.
Focus on vitality and empowerment of students and staff.
Promote long-term mobility.
Planet: The University of Groningen strives to be CO2-neutral
Improvement in energy efficiency.
Energy produced by our own renewable sources.
Water consumption reduction.
Reduction of general waste.
BREEAM excellent will be the norm for new building and renovation work wherever possible.
Ecological management of university premises, with consideration for users.
Performance: The University of Groningen will be aware of and responsible for from profits to value by 2020
Integrate sustainability into the teaching curricula and research projects.
Aim for 100% sustainable purchasing, with consideration for working conditions and human rights.
Improve communication with staff and students about sustainability, by promoting and supporting events, symposia, lectures and courses relating to sustainability.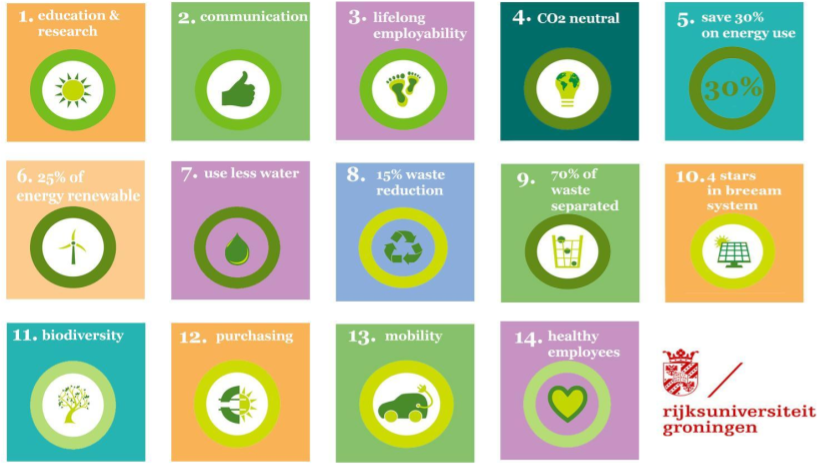 New Ambitions
The Green Office is currently working on new ambitions for the Roadmap 2021-2026, in cooperation with other departments and the Sustainability Sounding Board.
| | |
| --- | --- |
| Last modified: | 27 August 2021 3.36 p.m. |