Student team
The student team of the Green Office consists of student assistants who, among other things, are involved in the organization of activities, making study associations more sustainable and the social media of the Green Office. Currently the student team consists of the following students:
---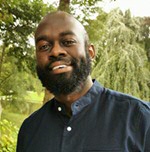 Malcolm D. Davis
Student assistant Ambassadors & Secretary
m.d.davis@rug.nl
"After being a vegan for the last four years, I realized I still had a lot to learn about being sustainable in other ways. I wanted to surround myself with individuals passionate about contributing to a more sustainable world. Helping at the university that I am a part of sounded like a great place to start. The Green Office offers all involved the opportunity to actively participate in making the university a greener place. It may be a smaller step compared to steps on the world stage, but every step in a greener direction is one worthwhile."
Sustainable tip: Donate old clothes that you no longer use to a charitable organization. The funds accumulated through re-selling old clothing can be used for many good causes. This way nothing goes to waste!
---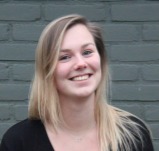 Merel van den Boom
Student assistent Events & Communication
m.van.den.boom@rug.nl
"Moving to Groningen for my bachelor quickly deepened my interest in sustainability, a topic that is of great importance to many students here. Having dinners with committees and friend groups, I learned a bunch of new vegetarian recipes to switch up my previously meat dominated repertoire.
For my BSc thesis International Business, I decided to focus on the marketing of sustainable products and learned that I am greatly interested in the psychology behind the adaptation of sustainable practices. Currently I am working on obtaining my masters in Marketing Management with a specialization in sustainability, and I love that it combines knowledge on business management and consumer psychology with the creativity of marketing."
Sustainable tip: Regularly have dinner with your (vegetarian/vegan) friends! Learning some of their favorite recipes helps you switch up your diet, and can help you reduce your food waste as you learn new ways to use and combine your veggies! Also, cooking them your favorite dishes may just as well inspire them!
---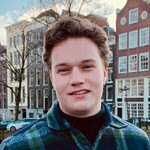 Rik Klement
Student assistant External & Research
t.h.r.klement@rug.nl
"For me, contributing to the challenge of making living on earth sustainable, is the perfect side job. Exactly that is enabled by the Green Office. Whereas, we focus on sustainable improvements in and around the UG. As such, I can directly apply my study skills and interests to the university I study on myself. Working with colleagues and project groups from different backgrounds enables for both mutual learning and an interdisciplinary approach to the problems we aim to solve. During my bachelor's thesis on the environmental impact of drinking cup usage on the UG, I cooperated with the Green Office after which I could stay for my student assistant position, which I still enjoy!
I am a master student in Industrial Engineering and Management."
---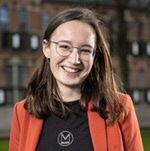 Eline I. Bolt
Studentassistent Education & Research
e.i.bolt@rug.nl
"In my minor Future Planet Innovation I learned a lot about sustainability, which made me decide to expand my knowledge on sustainability issues, and to focus on it in my studies as well as in my daily life. In this minor I also got to know about the Green Office and I loved hearing that there was a team dedicated to sustainability at the RUG. I love learning about how we can be hands-on in greening our environments, and I think education plays a big role in this. This is why I enjoy being a student-assistent at the GO!
I study Climate Adaptation Governance at Campus Fryslan and I would like to work on creating climate adaptive environments in the future."
Sustainable tip: Use shampoo and body wash bars instead of plastic bottles. Often they contain much less chemical products and since they don't come in any plastics they're much better for the environment!
---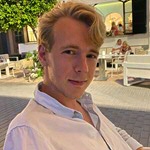 Lennart van Drunen
Studentassistent Office Management
l.van.drunen@rug.nl
"Climate change is the biggest challenge of our time. From a policy perspective, I find it very interesting how we can translate our ambitious long-term goals into steps forward in the short-term, big and small. Within our university the Green Office works on this in so many ways, and I love to contribute to that!
After finishing my Bachelor in Spatial Planning, I will now go for a Master in History."
Sustainable tip: Watch you digital footprint! Cleaning your mailbox and files saves data storage, which consumes a lot of energy.
| | |
| --- | --- |
| Last modified: | 20 September 2022 09.50 a.m. |