Student team
The student team of the Green Office consists of student assistants who, among other things, are involved in the organization of activities, making study associations more sustainable and the social media of the Green Office. Currently the student team consists of the following students:
---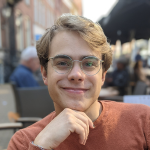 Josh Bruegger
Studentassistent Associations & Events
j.bruegger@rug.nl
"Transitioning from a Bachelor's in Artificial Intelligence to a Master's in Energy and Environmental Sciences, I've found a unique intersection for my interests at the Green Office. Here, I serve as a bridge between the University's Associations and sustainable practices, notably through our Green Label and Subsidy programmes, which encourage associations to think critically about their environmental impact and help them financially to implement solutions. Looking ahead, I aim to combine my tech background with sustainability to make meaningful contributions to a greener future."

Sustainable tip: For immediate impact, reduce your meat and dairy consumption and opt for a bank that doesn't invest in fossil fuels. Every choice counts!
---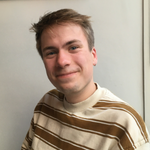 Harm Verbeek
Student assistent Coordinator Ambassadors
h.a.verbeek@rug.nl
"From a young age I was taught to care about our planet and the people living on it. When I started my bachelor's in Human Geography and Planning, I was excited to see this aspect also reflected in my studies and within the university. Working at the Green Office, I hope to have a positive influence on people's way of studying and working.
I believe real change comes from ambitious individuals coming together to strive for the same goal. That is why I am excited to be able to support such individuals within our university in the Green Office Ambassador programme."
Sustainable tip: Put on your favourite song when you get into the shower. At the end of the song you will know it is time to get out. This will not only make your shower more fun, but it is also helpful to ensure you're not showering for an unnecessarily long time.
---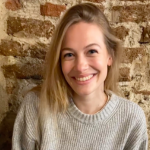 Lea Harnisch
Student assistant Education & Research
l.harnisch@rug.nl
"I've always been interested in questioning how we interact with business and life and not sticking to behaviors just because that's how the world has worked. The "Sustainable Society" focus area has truly opened my eyes to practical and impactful ways of promoting sustainability, even on a larger scale, while reducing and eliminating animal products.
The impact of climate change on humanity and the urgent need for action that comes with it have convinced me that I want to do my part to contribute to the many new solutions that are needed. We need to change almost everything we do to reach the 1.5-degree target and prevent the worst impacts of climate change on humanity. Motivated by that, I applied to become a student assistant at the Green Office, aiming to actively contribute to creating a sustainable impact."

Sustainable tip: Carry a refillable coffee cup/ reusable water bottle instead of buying plastic or disposable cups. This way, you can refill and reuse it throughout the day and reduce the amount of plastic waste generated that ends up in landfills and oceans.
---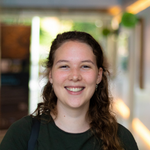 Meerke Romeijnders
Student assistent Administrative and Organizational Tasks
m.romeijnders@rug.nl
"I've always had a strong interest in sustainability, but I often felt that I couldn't do much to make a real impact. However, it wasn't until I worked on my Computing Science thesis focused on sustainability that I truly understood how vital this subject is and how many ways there are to make a difference, big or small. In my role at the Green Office, I support administrative and organizational tasks and help think along for making our future greener. I hope to bring a different perspective to the table, drawing from my tech background to help contribute towards a more sustainable future.
Sustainable tip: Try to reduce your digital footprint by unsubscribing from newsletters and promotional emails you don't find interesting anymore. Also, try to delete or archive emails and remove old accounts you do not use anymore. While often overlooked, small changes like these can make a big difference!"
---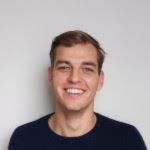 Gijs Boesjes
Student assistant Climate Impact
g.boesjes@rug.nl
"From my background in natural sciences, it is easy to view climate change as a problem that can be solved by science and technology. In the past years, however, I have more and more realised how important it is to consider societal and political aspects in creating sustainable solutions for the future. Through my work at the Green Office, I can contribute to raising awareness and changing behavioural patterns to ensure a more sustainable future for the University, its staff and its students.
After finishing my BSc Astronomy at the UG, I am currently obtaining my master's degree in Energy and Environmental Sciences, where I have taken an interest in the modelling of the Earth's climate and Human-Environmental Systems."

Sustainable tip: Don't throw away leftover food! Challenge yourself in using as much of the produce you buy. Leftovers from the day before or scrap bits from your cooking prep can be used again to create wonderful soups, stir-fries, sauces or stocks.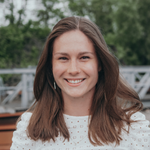 Merel van Ramshorst
Student Assistant Communication
m.van.ramshorst@rug.nl
"With a background in criminal law, I've always had a passion for justice and social issues. After completing my master's in criminal law, I decided to expand my horizons and delve into the ever-evolving realm of social media and society.
Studying the master's program in Social Media and Society has been an eye-opening experience. It's allowed me to understand the profound impact of digital communication on our world today. As my study programme does not have a focus on sustainability, I'm excited to use my communication skills to promote sustainability and engage with the Green Office community."
Sustainable tip: Make the most of your freezer! I'm passionate about reducing food waste, so if I ever feel like food might spoil, I simply freeze it, and it stays fresh for a long time. Leftover dinners also find their way into my freezer for future meals. Alternatively, when I plan to enjoy them for lunch, I store them in my fridge and reheat them: that helps saving money as well!
| | |
| --- | --- |
| Last modified: | 17 October 2023 1.40 p.m. |