Staff members with discipline Literary Reviews
Academia develops at the interface of different fields. This is one reason why the University of Groningen is home to a wide range of fields, each with a great number of subject specialists. The overview below, which is based on a standard categorization of fields, will help you find the right expert for each field. If you cannot find the expert you are looking for in this list, try searching via a related field or faculty; you may find him or her there.
Vera Veldhuizen is assistant professor in both European Languages and Cultures, and Arts, Media, Culture at the University of Groningen. Previously she attended Cambridge University for her PhD in children's literature, with Homerton College and the Faculty of Education, supervised by Maria Nikolajeva. She holds a BA from
University College Roosevelt and an MSc in Literature and Society from Edinburgh University.
Her research is focused on cognitive approaches to children's literature. Her PhD was on empathy, ethics and justice construction children's war literature. Her current project is on the impact and complexity of contrasting truth narratives in children's literature. She has presented her research at many international conferences and through several peer reviewed publications.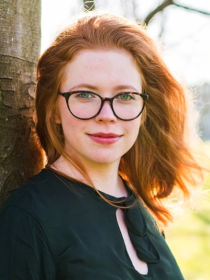 Function
Assistant Professor