Dierfaciliteit Linnaeusborg
De proefdierfaciliteit in de Linnaeusborg is een facultair instituut dat onderzoek en onderwijs ondersteunt van de Faculty of Science and Engineering (FSE) van de Rijksuniversiteit Groningen. In deze proefdierfaciliteit worden voornamelijk dierexperimenten uitgevoerd door onderzoekers van FSE ( GELIFES , ESRIG ).
Huisvesting en verzorging
Huisvesting, verzorging en fok van proefdieren wordt op de Linnaeusborg georganiseerd door de Facultaire Dienst Dierverzorging (FDD). Hierbij geldt een uitzondering voor de verzorging van dieren in een experiment, deze dieren worden in de regel namelijk door de onderzoeker zelf verzorgd. Dit is ingegeven door de aard van het onderzoek (gedragsexperimenten) waarbij het van belang is dat variatie in zaken als personen, handelingen en timing zoveel mogelijk vermeden wordt.
Er wordt een breed spectrum aan diersoorten gehuisvest. Zo biedt de faciliteit onderdak aan muizen, ratten, hamsters en cavia's, maar bijvoorbeeld ook tupaia's, zoet- en zoutwatervissen en verscheidene vogelsoorten zoals zebravinken, meeuwen, duiven, spreeuwen, kippen en ganzen. Er zijn diverse huisvestingsmogelijkheden, die voldoen aan zowel de wettelijke eisen als aan de eisen van het experiment. Daartoe wordt het klimaat (temperatuur en luchtvochtigheid) in de dierverblijven nauwkeurig gereguleerd en gecontroleerd, en zijn dag/nacht ritme, lichtintensiteit, drukregime en luchtverversing instelbaar.
Het onderzoek binnen FWN richt zich voor een belangrijk deel op gedrag en evolutie. Om die reden zijn er naast de reguliere huisvesting op D-1 niveau (zowel conventioneel als IVC), ook specialistische faciliteiten als klimaatcellen, zoet- en zoutwateraquaria, en is een meer semi-natuurlijke huisvesting mogelijk in 'muizentuinen' en volières op het buitenterrein.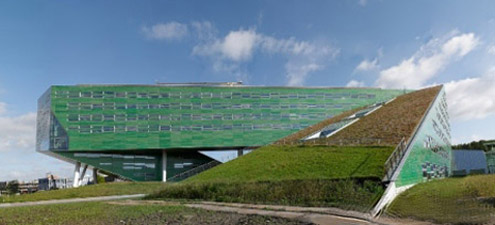 | | |
| --- | --- |
| Laatst gewijzigd: | 13 maart 2020 00:22 |