National developments towards more Data Autonomy (1)
| | |
| --- | --- |
| Date: | 26 July 2023 |
| Author: | Ronald Stolk |
The regaining of more autonomy over our data at the university is a major undertaking. Apart from activities within the UG, this requires national and even international collaborations. PublicSpaces is an example where the UG actively participates, as written in a previous blog post.
SURF is the national organization for ICT in higher education. One of their focus areas is Public Values in digitalization. The three core public values for education and research are justice, humanity and autonomy. For more details see the nice booklet on public values by SURF and Kennisnet. Autonomy includes not only data, but also freedom of education and self-determination of students. In the UG Data Autonomy program, we aim to obtain those aspects of autonomy by offering more choices than the applications of the BigTech companies.
From the CIT we actively participate in the SURF Public Values team. One of the endeavors is aligning with the Dutch government. The first steps have been successful, resulting in a working visit by the Secretary of State for Digitalization to discuss potential collaborative projects. A follow-up visit from the ministry of Education, Culture and Science is planned for September.
About the author
Ronald Stolk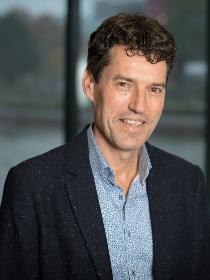 Comments