Vols, Prof. Michel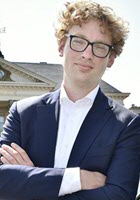 Michel Vols (The Hague, 1984) is Chair in Public Order Law at the Faculty of Law. He graduated from the Faculties of Law and Philosophy at the University of Groningen. He graduated cum laude from the Faculty of Law in 2008, having completed a Research Master's in Functionality of Law. During the programme, he specialized in public order law and the enforcement of administrative law by local authorities. Vols was awarded a PhD in 2013 for a thesis entitled 'Woonoverlast en het recht op privéleven. De aanpak van overlastveroorzakers in Nederland, Engeland, Wales en België' [Housing-related Anti-social Behaviour and the Right to a Private Life. Combating Anti-social Behaviour in the Netherlands, England, Wales and Belgium]. For this research, he examined legal practice and legislation in England, Wales, Belgium and the Netherlands.
Nowadays, Vols is an assistant professor and also works as an academic researcher in the area of public order law at the Centre for Public Order and Public Security, which is linked to the University of Groningen. He was a visiting scholar at the University of Ghent (Belgium), the University of Bristol (UK), the University of Puerto Rico (USA), Cape Town (South Africa) and founded the International Research Network on Law and Anti-social behaviour. In addition, he conducts research for the Ministry of Interior and Kingdom Relations on combating anti-social behaviour. He also gives training sessions for the Dutch Centre for Crime Prevention and Safety on dealing with anti-social behaviour, urban degradation and rogue landlords.
In 2016 Vols was awarded the Nicolaas Muleriusstipendium for his research. In 2019 he launched a website where citizens can get free legal advice if their neighbours are causing a nuisance: overlastadvies.nl.
In 2020 Vols was awarded a ERC Starting Grant (E. 1.5 million). Vols will investigate to what extent national and international legislation and human rights laws protect people from the serious impact of a measure like being evicted from their homes.
Other
video's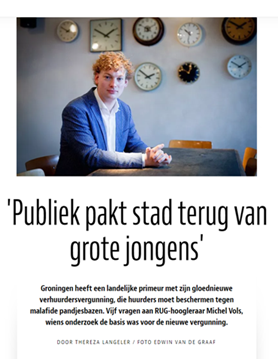 Previously in the news (mostly in Dutch)
Contact and more information
| | |
| --- | --- |
| Last modified: | 11 January 2023 2.22 p.m. |