Loonen, Dr Maarten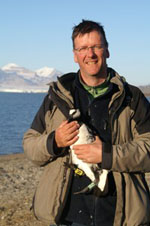 Maarten Loonen is a polar researcher who has been travelling to Spitsbergen for over 25 years to study the behaviour of migratory birds and changes in their living conditions. The Polar regions are unique for researchers as rises in temperature and the consequences for humans, animals and plants are extra visible here. On Spitsbergen, Loonen and other Groningen scientists are studying whale hunting, tourism, mining, ecosystems and the consequences of climate change for migratory birds. In 2014, Loonen was one of the researchers of the University of Groningen that were invited by the Dutch Navy to join an expedition to Jan Mayen island. This was a unique opportunity for the researchers to visit this isolated island. The multidisciplinary research team concentrated on archaeology and biology.
Loonen also charts the flying routes of the arctic tern. To that end he implemented an instrument that was new in academic research – crowdfunding. Loonen was able to fit arctic terns with geolocators and expects to be able to chart the changes in the migratory patterns after a few years. And, because the birds cross the entire globe twice a year, he hopes to gain a better idea of the ecological changes that are taking place worldwide.
Loonen led the largest Dutch polar expedition in history, to the east side of Spitsbergen, in 2015. He was the driving force behind this large-scale research project. The expedition was repeated in 2022.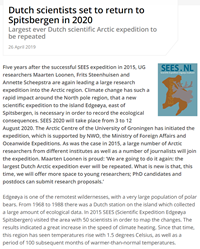 Contact and more information
Publications

No matching publications were found.
| | |
| --- | --- |
| Last modified: | 13 November 2023 08.41 a.m. |