Broersma, Prof. Marcel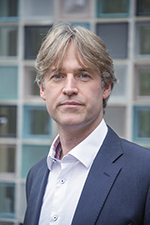 Marcel Broersma (1973) is Professor of Journalistic Culture and Media. He studied History and Journalism in Groningen and then worked as a freelance journalist and editor for the Leeuwarder Courant. Since 1997 he has been a lecturer on the Journalism degree programme of the University of Groningen. He was awarded his PhD cum laude in 2002 for a historiography of the Leeuwarder Courant. His publications include books on regional journalism, the development of journalistic forms and styles in Europe, and the sculptor Pier Pander.
Broersma's research covers the forms and styles of reporting, the relationship between press and politics, and regional journalism. Currently he is leading the research project 'Reporting at the Boundaries of the Public Sphere. Form, Style and Strategy of European Journalism, 1880-2005', for which he was awarded a VIDI grant by NWO. The project investigates how form and style changes contributed to the growth of journalism into an autonomous profession and the consequences thereof for the public sphere. Boersma is also a member of the Netherlands Press Council, editor of the Tijdschrift voor Mediageschiedenis [Media History Journal] and a reviewer for the Leeuwarder Courant.
In 2013 The Centre for Media and Journalism Studies at the University of Groningen and the Journalism Group at VU University Amsterdam have been awarded joint funding of € 790,000 to look into ways of optimizing news reporting in the light of changing habits among the public.
Broersma is one of the pioneers of the new Bachelor's degree programme in Media Studies, which was launched in September 2015.

Previously in the news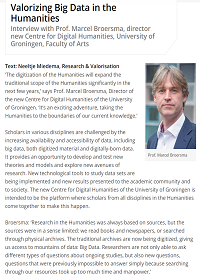 Contact and further information
Publications
| | |
| --- | --- |
| Last modified: | 10 June 2022 12.26 p.m. |