Broersma, Prof. Marcel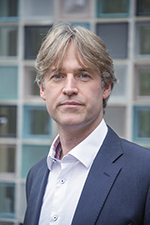 Marcel Broersma (1973) is Professor of Journalistic Culture and Media. He studied History and Journalism in Groningen and then worked as a freelance journalist and editor for the Leeuwarder Courant. Since 1997 he has been a lecturer on the Journalism degree programme of the University of Groningen. He was awarded his PhD cum laude in 2002 for a historiography of the Leeuwarder Courant. His publications include books on regional journalism and the development of journalistic forms and styles in Europe.
Broersma's research focuses on forms and styles of reporting, the relationship between press and politics, and regional journalism. He also investigates the impact of digitalisation on journalism and society, and recently examined the impact of the Corona pandemic on news habits with Joélle Swart.
For the research project 'Reporting at the Boundaries of the Public Sphere.', he received a large VIDI grant. This allowed him to investigate how changes in form and style contributed to the growth of journalism into an autonomous profession and what impact this had on the public sphere. In 2013, the Centre for Media and Journalism Studies at the RUG (and the Department of Journalism at the VU) received around 800,000 euros for research into the provision of new forms of journalism, in which scientists and editors together investigated the significance of digitalisation for changing news and information consumption.
With the rise of digitalisation, Broersma's research shifted to social media, new forms of media use and machine learning. In doing so, Broersma aims to prepare (Groningen's) society for a digital future.
Previously in the news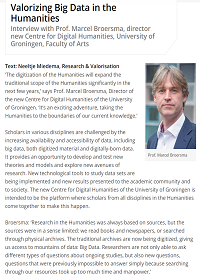 Contact and further information
Publications
| | |
| --- | --- |
| Last modified: | 23 October 2023 3.55 p.m. |