Schomaker, Prof. Lambert

Lambert Schomaker is professor of Artificial Intelligence and scientific director of the research institute ALICE (Artificial Intelligence & Cognitive Engineering). He has worked on several projects concerning the recognition of online, connected cursive script on the basis of knowledge of the handwriting movement process. Current projects are in the area of image-based retrieval, online and offline handwriting recognition, forensic writer identification, and cognitive robot navigation models. His work on neural networks for handwriting and gesture recognition was a precursor to modern handwriting and gesture-recognition methods on tablet computers such as the iPad.
He is currently active in a multidisciplinary project (Target) for mass-storage, high-performance computing and datamining, in order to implement the Monk generic search engine for handwritten historical archives. The Monk system is unique in the world due to its huge scale, genericity and its use of live, '24/7', machine learning. In another project (Mantis), Schomaker is using robustness principles from AI to develop smart systems that can detect and solve problems along industrial assembly lines.
In 2021, through analysis of the manuscript with artificial intelligence, Prof. Mladen Popović (expert on the Dead Sea Scrolls), PhD student Maruf Dhali and Schomaker discovered that the famous great Isaiah scroll was written by two writers.
The HAICu project, of which Schomaker is the coordinator, received a 103 million euro grant from the National Science Agenda in 2023. In the research project, AI and Digital Humanities researchers are working with heritage professionals and interested citizens on scientific breakthroughs to access, link and analyze large-scale digital heritage collections.
Previously in the news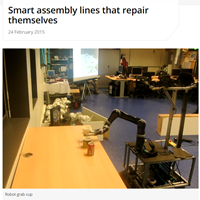 Contact and further information
Publications
| | |
| --- | --- |
| Last modified: | 01 November 2023 08.45 a.m. |