Batstra, Prof. Laura
Laura Batstra (1973) graduated cum laude in psychology in 1997. She then joined the University Medical Center Groningen as a psychologist, where she worked on various projects in the field of indirect patient care. At the end of 2004 she was awarded a PhD for her thesis 'Difficult Birth, Difficult Life?' She went on to work as a treating psychologist at an institution for child and youth psychiatry.
In 2010, Dr Batstra joined the Orthopedagogy department at the University of Groningen where, among other things, she teaches Psychopathology in Children and Adolescents. In her teaching she is able to draw on her experience as a therapist and on her academic research.
Batstra's fields of research include methods for preventing over-diagnosis without risking under-treatment. 'In many cases involving children perceived as problematic, the child can be spared the negative effects of a psychiatric diagnosis if help and support is offered to adults in that child's environment.' 2012 saw the publication of Batstra's book ' Hoe voorkom je ADHD? Door de diagnose niet te stellen ' ('How can ADHD be prevented? By not diagnosing it.'), in which she advocates a new approach to ADHD problems.
Previously in the news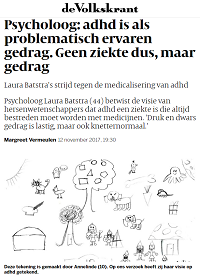 Contact and further information
Publications
| | |
| --- | --- |
| Last modified: | 27 July 2023 10.18 a.m. |