Raemaekers, Prof. Daan

Daan Raemaekers is Professor of Archaeology of Northwest Europe at the University of Groningen and director of the Groningen Institute of Archaeology. Within this institute, he also stimulates the organization of and innovation in teaching. He studied prehistory and protohistory at Leiden University, where he also conducted his PhD research. Raemaekers' academic focus is on the prehistory of Northwest Europe and the emergence of agriculture. He is particularly interested in the use of material culture in the Neolithic era.
After gaining his PhD, Raemaekers worked as senior project leader for RAAP Archeologisch Adviesbureau, where he supervised projects in the field of built heritage conservation. He was subsequently appointed Professor of Archaeology at the UG, where he also served one term as Vice-Dean of the Faculty of Arts. Raemaekers has been director of the Groningen Institute of Archaeology
since 2018.
Together with a group of students from Groningen and Leiden, Raemaekers recently conducted archaeological research on the megalith 'Hunebed D34' in Valthe. The soil around this megalith has turned out to be more intact than was previously thought, which has made new discoveries possible for the first time since the 1980s.
Previously in the news
(Mostly in Dutch)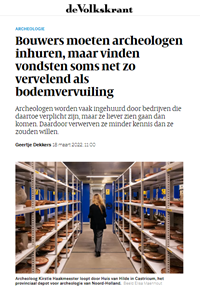 | | |
| --- | --- |
| Last modified: | 13 September 2022 09.37 a.m. |