Reitz-Joosse, Dr Bettina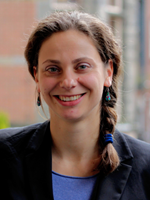 Bettina Reitz-Joosse is Assistant Professor of Latin Language and Literature. She researches the relationship between literature and material culture in Roman Antiquity. She calls herself a 'dedicated classicist' and is convinced that Antiquity also plays a meaningful role in current society.
Reitz-Joosse studied Classics at Corpus Christi College Oxford and gained her PhD in 2013 from Leiden University. In 2015 she was awarded a 4-year VENI grant by NWO to research the representation of 'war landscapes' (battlefields and other post-war spaces) in Roman literature. In 2016, she and her colleague Han Lamers made the world news with their research on the 'Codex Fori Mussolini', a Latin text about Mussolini's Italy, hidden by the Fascists under a marble obelisk in Rome in 1932. The communications campaign around this project received the 2017 Science Communication Award from the Royal Flemish Academy of Belgium for Science and the Arts and the Flemish Young Academy. In 2017, Reitz-Joosse was appointed a member of The Young Academy of the Royal Netherlands Academy of Arts and Sciences (KNAW), a platform comprising young top academics with an innovative vision of scholarship and academic policy. Reitz-Joosse is also a board member at the UG for The Young Academy. In 2018 she was voted UG Lecturer of the Year 2017. In 2022 she has received an ERC Starting Grant for the project FACERE.
Previously in the news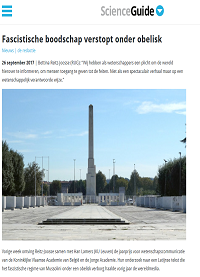 Contact and more information
Publications
| | |
| --- | --- |
| Last modified: | 09 June 2023 8.36 p.m. |