Bruin, Prof. Boudewijn de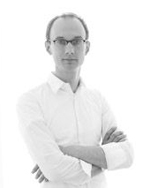 Boudewijn de Bruin (1974) is professor of Financial Ethics at the Faculty of Economics and Business at the University of Groningen. This chair, the first of its kind in the Netherlands, is a response to the widespread social desire to train future economists and business administrators in ethics. 'The economic crisis has demonstrated the need for financial ethics,' says De Bruin. 'You only have to think of issues to do with bonuses, government support for banks, or the bankers' oath. However, Financial Ethics is barely out of the starting blocks as an academic discipline. That means that there are a lot of possibilities, both for teaching and for new research projects.' De Bruin makes use of methodologies from disciplines such as philosophical ethics, mathematical game theory and logic for his research into ethics in the financial sector.
De Bruin studied composition for a year at music school, and mathematics and philosophy in Amsterdam, Berkeley and Harvard. He gained his PhD with a thesis on game theory and epistemic logics. Alongside his professorship, De Bruin is a University Reader in Ethics at the Faculty of Philosophy.

In early 2016 he was awarded an NWO grant worth € 700,000 to investigate the consequences of repeated exposure to stereotypes of a particular population group – including the foolish and clumsy Zwarte Piet.
Previously in the news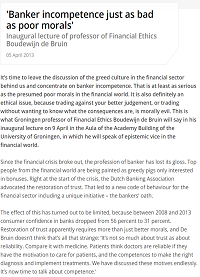 Contact and further information
Publications
| | |
| --- | --- |
| Last modified: | 27 July 2023 12.41 p.m. |