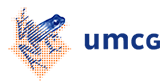 Mastersymposium 26 June 2019
The Mastersymposium on 26 June was a great day and a succes! Lots of students, staff, family and friends were present, and the day was greately valued! We are planning on organising it again next year. As soon as the date is set, we will publish it on this webpage. Hope to see you (again) next year!
Program information
On Wednesday 26 June, students of our master programs in Human Movement Sciences and Sport Sciences present their graduation project.
If you are interested please check the updates at this page frequently to stay informed!
Update 20-6: You can find the time schedule and presentation schedule here in PDF. We also made a posterbook, which contains all the research abstracts and posters of the students involved.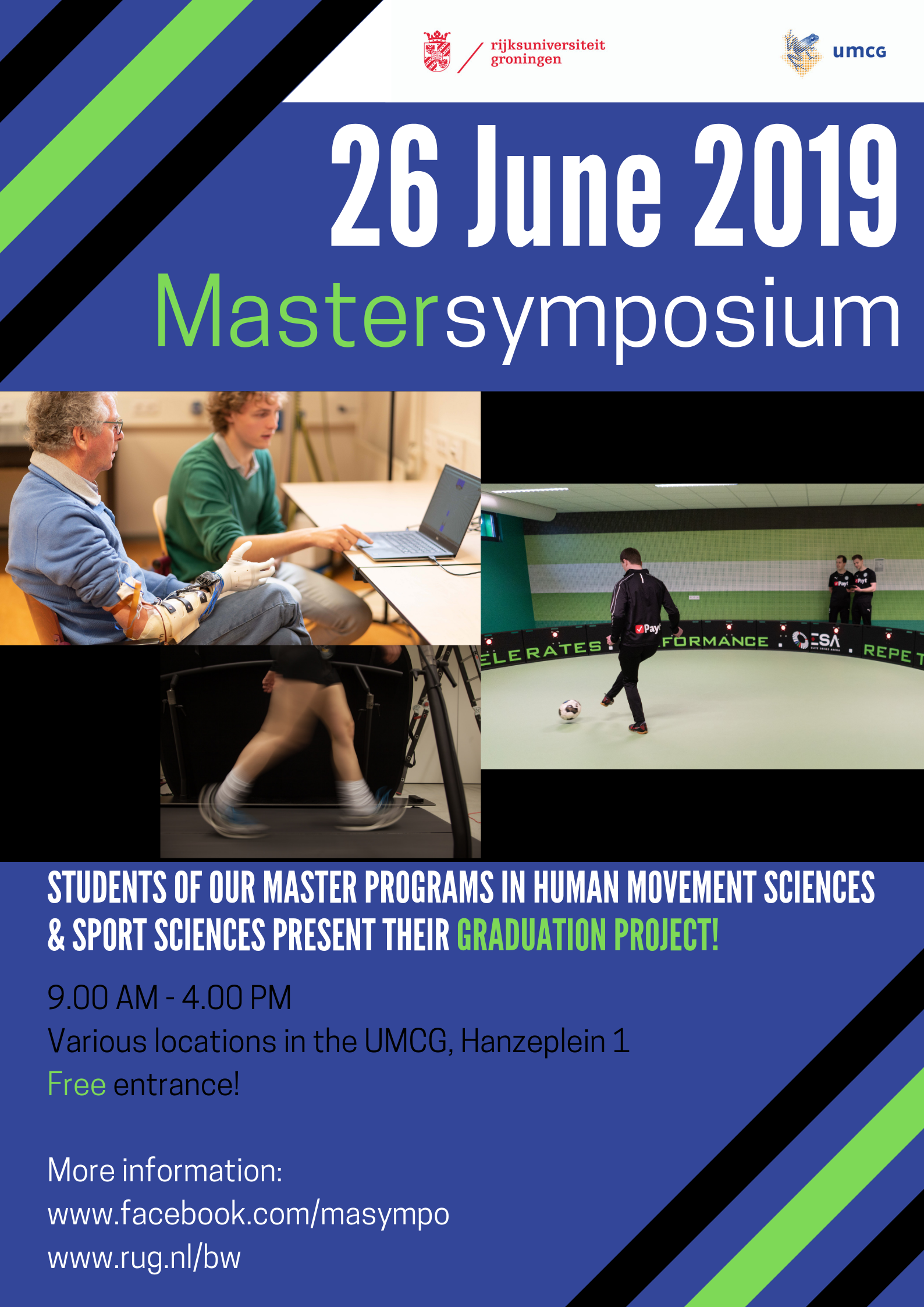 Time schedule mastersymposium
8.30-9.00 Open walk in (registration for staf & students at registration desk, near Fonteinpatio)
09:10-09:20: Opening Koen Lemmink, head of department Human Movement Sciences
(Blauwe zaal)
09:30-10:30: Round 1 (4 sessions in Blauwe zaal, Rode zaal, Ronde zaal en Lokaal 16)
Tea/coffee break 10:30-11:00 (Fonteinpatio)
11.00-12.00: Round 2 (4 sessions in Blauwe zaal, Rode zaal, Ronde zaal en Lokaal 16)
Lunch 12.00-12.30 (Fonteinpatio)
12.00-12.30 Poster presentations (Fonteinpatio)
13.15-14.15 Round 3 (4 sessions in Blauwe zaal, Rode zaal, Ronde zaal en Lokaal 16)
Tea/coffee break 14:15 - 14:45 (Fonteinpatio)
14:45 - 15:20 Speaker: dr. Teun Aalbers (former student Human Movement Sciences Groningen). (Blauwe zaal)
After studying Human Movement Sciences in Groningen, Teun Aalbers obtained his Ph.D. in 2016 at Radboud UMC in Nijmegen. In the context of his dissertation entitled "eHealth in the primary prevention of cognitive decline; the Brain Aging Monitor Study ", he conducted research into middle-aged health promotion. Aalbers had games developed for this research. After his PhD and a two-year PostDoc, Aalbers entered the serious gaming industry at GainPlay Studio. Since 2014 he has been responsible for business development there. A first spin-off has been set up from GainPlay Studio, aimed at the treatment of overweight and obesity by dietitians; Digest Inn. Aalbers sees it as a major challenge to playfully return the end users of their games to the control of health issues. Putting people as a playing being at the center and tapping into and utilizing the intrinsic curiosity of people is what it is all about for him.
15:20 - 15:40 Best oral and poster presentation awards (Blauwe zaal)
16.00 Closing (Blauwe zaal)
Contact
If you have any questions concerning the program or the symposium, feel free to contact us!
Tel: +31 50-3616060, or via e-mail.
| | |
| --- | --- |
| Last modified: | 11 July 2019 2.53 p.m. |