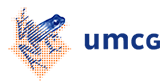 Dates en topics GLMS 2019-2020
Four (or more) times a year the department of Human Movement Sciences (UMCG/UG) organizes the 'Groningen Lectures in Movement Sciences' (GLMS). In this series, outstanding researchers from the Netherlands and abroad present a lecture on a human movement sciences topic. The speakers will present in English and the lectures are open to attend for everybody interested.
Dates for the new academic year 2019-2020 are:
Date
Time
Location
Lecturer
Title
Abstract
10 September 2019
3.00-4.00 PM
Faberzaal

Kerry L. Marsh, Ph.D. Professor, Psychological Sciences, University of Connecticut, USA

'Emergence of Social Connection Through Synchronous Movement'

Abstract
10 October 2019
10.00-11.00 AM
Faberzaal

Keith Davids,

Centre for Human Performance and Sport,

Sheffield Hallam University, UK

'How Ecological Dynamics underpins athlete development and performance preparation in sport'
15 October 2019
12.00-13.00 PM
3215.0126

Brett Fajen, Rensselaer Polytechnic Institute, Troy, New York, USA

The visual control of walking over complex terrain'

Abstract
17 October 2019
3.00-4.00 PM
Boeringzaal

Gertjan Ettema, Centre for Elite Sports Research (SenTIF), Department of Neuromedicine and Movement Science (INB), Faculty of Medicine and Health Sciences, NTNU

'Sub-techniques in classic and freestyle cross-country skiing – what factors play a role in which to choose?'
Abstract
6 November 2019
11.00-12.00 AM
3219.0061

Jean-Jacques Temprado, Aix-Marseille University – Institute of Movement Science, Head of the Chair Active Aging 2.0

'Healthy aging as a dynamics in the complex neurobehavioral system.'

Abstract
20 January 2020
3.00-4.00 PM
Faberzaal
dr.

James M. Finley, University of Southern California, Division of Biokinesiology and Physical Therapy, Locomotor Control Lab.

'Human Locomotor Learning: From Adaptation to Rehabilitation.'
Abstract
FOLLOW THE GLMS FACEBOOKPAGE AND STAY INFORMED!
| | |
| --- | --- |
| Last modified: | 07 January 2020 11.36 a.m. |