Course Catalogue
Here you can find more specific information on the courses we offer throughout the Liberal Arts and Sciences curriculum.
Each year a new Course Catalogue is produced.
Note: once available, the catalogue for the Academic Year 2021-2022 will be posted here.
It is important to note that the catalogue may vary in the future and that some of the listed courses may change in name, new courses could be added or some might become unavailable. Also, please keep in mind that students are allowed to take courses from different faculties within the University of Groningen – those courses are not listed within this catalogue but can be consulted through the digital course catalogue (namely, Ocasys).
---
What is the Academic Core?
This is the list of courses that provide a broad foundation for your education as an LAS student. The general educational purpose of a core course of study is to ensure that all students take and complete courses that are considered to be academically and culturally essential. For example: academic skills and research, methodology etc.
---
Sample Curriculum
Below you can view an example of a three year Liberal Arts and Sciences Bachelor programme. The courses listed serve as a mere sample of our Course Catalogue.
The breakdown of the programme:
Academic core 55 ECTS
Major 95 ECTS (electives depend on Major and Specialization)
Minor 30 ECTS (electives)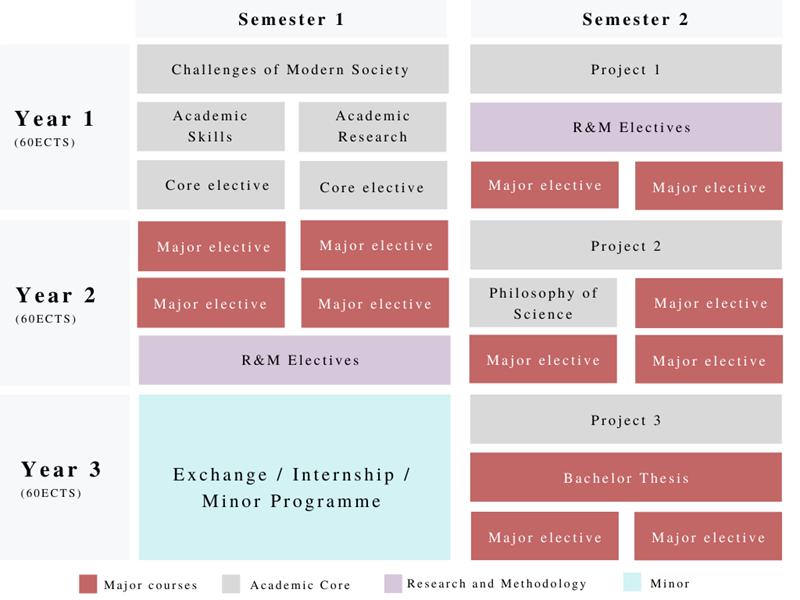 ---
More information about our Core programme:
| | |
| --- | --- |
| Last modified: | 13 August 2021 11.45 a.m. |