dr. S. (Steffie) van der Steen, PhD
associate professor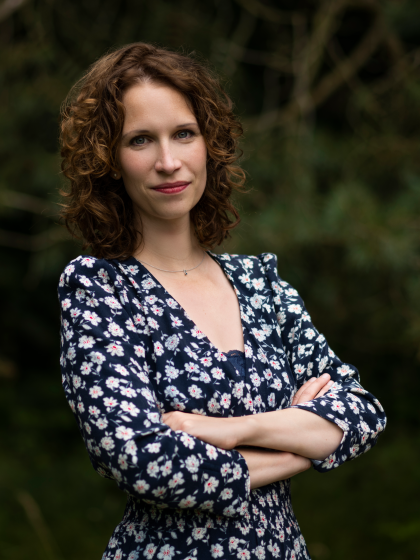 ---
I have always been fascinated by child-adult interactions and how these contribute to child development, whether it are caregiver-child interactions or teacher-student interactions. My studies are often longitudinal, and often include children with developmental disabilities.
After obtaining my Master's at Harvard University, I became an expert in micro-developmental research. This means I take detailed observations of natural interactions, and analyze behaviors in real-time. This enables me to study developmental processes, that is, how development comes about.
My PhD research at the University of Groningen focused on observations of children's natural interactions, and analyzing these using time-serial techniques. In a longitudinal within-subject design, I studied the cognitive development of typically developing children and children with developmental disabilities.
As assistant professor, I work on a number of projects (see below). Particularly worth mentioning are my studies on child-animal interactions, and especially the Veni project I start in 2018. Together with the department of Anthrozoology of the Open University and several organizations, I am also involved in three PhD projects on animal-assisted therapy for children. An important aim of these studies is investigating the underlying mechanism of such therapies.
Given that microdevelopmental research requires looking beyond conventional analyses, I applied data smoothing and clustering techniques, as well as Monte Carlo Permutation tests. Recently I familiarized myself with a nonlinear method, cross recurrence quantification analysis (CRQA), to unravel the dynamics of dyads and their development over time.
Current projects:
Veni grant 2018: (How) Does Animal-Assisted Therapy Work?

Animal-assisted therapy is gaining popularity, but there is no conclusive evidence for its effect. This study investigates the effect of dog-assisted therapy for children with Down Syndrome and Autism, and looks for a possible mechanism to explain this effect: Increased synchronization between the movements of child and therapy dog

With Richard Griffioen (PhD candidate): Project on animal-assisted therapy for children with Down syndrome and Autism spectrum disorders
With Lisette de Jonge-Hoekstra (PhD candidate): Project on the attunement of speech and gestures during interactions with other students and scientific tasks
With Anne Steenbakkers (PhD candidate): Project on the psychosocial needs of youth in family foster care and the impact of traumatic experiences
Follow-up on my PhD project: A longitudinal microgenetic study on the development of young children's understanding of scientific concepts
With colleagues from Hanze Applied University: the development of initiations and on-task behavior of an autistic boy during caregiver-child interactions
| | |
| --- | --- |
| Last modified: | 25 June 2022 3.36 p.m. |