R.K. (Ranjita) Bose, Prof
Associate professor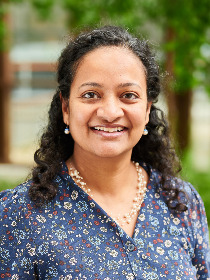 ---
ACADEMIC POSITIONS
06/2022 – present, Associate professor

Associate professor in Polymer Engineering, Department of Chemical Engineering, Engineering and Technology Institute Groningen (ENTEG), University of Groningen, The Netherlands
06/2017 – 05/2022, Assistant professor (tenure track)
Department of Chemical Engineering, Engineering and Technology Institute Groningen (ENTEG), University of Groningen, The Netherlands
03/2012 – 05/2017, Postdoctoral researcher
Novel aerospace materials, Faculty of Aerospace Engineering, Delft University of Technology, The Netherlands
Topic: Self-healing polymers – Synthesis, molecular mechanisms, dynamics, macroscopic behavior, and structure-property relationships
Supervisors: Prof. Sybrand van der Zwaag, Dr. Santiago J. Garcia Espallargas
EDUCATION
09/2006 – 12/2011 Ph.D. in Chemical Engineering, Drexel University, Philadelphia, USA
Thesis title: Initiated Chemical Vapor Deposition for Synthesis of Polymer Thin Films and Coatings for Biological Applications.
Supervisor: Prof. Kenneth Lau
06/2002 – 06/2006 B.E. (Bachelor of Engineering) in Chemical Engineering, Gujarat University, India
AWARDS & GRANTS
SNN Subsidy North Netherlands on CIrcular Furniture 2021: €200,000
ERC FET-Open 2019 on Functional & Dynamic 3D Nano- MicroDevices by Direct Multi-Photon Lithography 2020: €547,000
SNN Subsidy North Netherlands on supercritical CO2 for industrial applications with industrial partner Foamplant 2019: €300,000
University of Groningen, Tenure track startup funds 2017 for research equipment and bursary PhD student
Drittmittel Fähig 2013: €8000 A competitive personal grant awarded by the German Research Foundation (DFG) under their self-healing materials special priority program (SPP) 1568 for young researchers to enable them to pursue independent research.
George Hill Jr. Fellowship 2008, Drexel University: $5000 The George Hill Jr. endowed fellowship was established in 1991 and is awarded for academic excellence to Ph.D. candidates showing an inclination for a career in academia.
CITATION METRICS
h-index: 20; Total citations: 1367 (Source: Google scholar, October 2022)
https://scholar.google.com/citations?user=MWuz_BwAAAAJ&hl=en&oi=ao
h-index: 19; Total citations: 1228 (Source: Scopus, October 2022)
https://www.scopus.com/authid/detail.uri?authorId=27267581700
RESEARCH EXPERTISE & CONTRIBUTIONS
Polymer thin films and surface chemistry with a focus on structure property relationships.
Developed methodologies to quantify self-healing in polymers and relate the chemical reversibility to mechanical property recovery.
Synthesized ultrahigh molecular weight polymer thin films and coatings using with controlled radical polymerization.
Kinetics of vapor deposition polymerization
Optimized synthesis and purification of candidate polymers based on application requirements.
Developed surface coatings (acrylate and fluorinated polymers) on micro- and nano- scale substrates for applications of controlled release, super-hydrophobic surfaces, biomaterial implants and moisture barrier properties.
Characterization techniques: NMR, FT-IR, UV-Vis, HPLC, GPC, DSC, TGA, DMA, rheology, XRD, ellipsometry, and surface analysis using optical microscopy, confocal microscopy, AFM, XPS, SEM and EDS.
INVITED TALKS
European Materials Research Society (E-MRS) annual conference 2022 – Invited conference talk. Bose R.K., Chemical vapor deposition of polymers for biomedical and energy applications
Nirma University Ahmedabad India, 2020, Alumni lecture to students of chemical engineering. Bose R.K., It's All About Flow: Rheology, Reactor Design, and Research Career.
University of Groningen, 2019 ENTEG Institute seminar, Bose R.K., Chemical vapor deposition polymerization of multifunctional coatings.
EMPA Materials Science and Technology Gallen, Switzerland, 2018 Invited seminar. Bose R.K. Polymer coatings using solvent-free initiated chemical vapor deposition.
Euromat annual conference, 2013, Seville, Spain - Keynote lecture Bose, R.K., and van der Zwaag S. Recent advances in characterisation, quantification and understanding the self-healing mechanism of supramolecular rubbers and metallopolymers.
Utrecht University, 2011 - Seminar Bose R.K. Polymers for biomedical applications using initiated chemical vapour deposition
Syngenta 2010, Basel, Switzerland - Seminar Bose R.K., and Lau, K.K.S. Crop Protection Compound Coatings Using Initiated Chemical Vapor Deposition (iCVD).
SERVICE AND OUTREACH
2020-2022, Board member of Young Science and Engineering Network (YSEN), the tenure track society of FSE at UG
2020-present, Member of ENTEG PhD reviewing committee ENTEG
2018-2020, Member of Program Committee Industrial Engineering and Management (IEM) IEM
2019- present, Member of Program Committee Chemistry/Chemical Engineering (Ch/CE) Ch/CE
Guest editor of journal Polymers for a special issue on Self-healing Polymers to be published in December 2020.
Supervising the final year science project on conductive polymer films of high school VWO (highest variant of secondary school education in the Netherlands) students Mart Deinum and Bram Elderman from Maartenscollege in Haren, September 2019 to March 2020.
https://www.rug.nl/research/enteg/news/high-school-student-project-in-collaboration-with-chemical-engineering-at-university-of-groninge
Outreach lectures and experiments on self-healing polymers for high school students during the event "Student for one day" at the University of Groningen, December 2019.
Scientific committee member for the Symposium on "Polymer and hybrid thin films from innovative deposition techniques to functional devices" – EMRS Spring Meeting 2018, Strasbourg France.
Reviewer for journals (i) Science Advances, (ii) ACS Applied Materials and Interfaces, (iii) Materials, (iv) Polymers, (v) Processes, (vi) eXPRESS Polymer Letters, (vii) Industrial and Engineering Chemistry Research, and (viii) Polymer Testing.
Member of Program Committee for two bachelor and master degree programs: Industrial Engineering and Management and Chemistry/Chemical Engineering at the University of Groningen (2017-present).
Drexel Women in Engineering: I volunteered during Drexel's outreach activities for mentoring local high school girls. This involved motivating them towards careers in science, lab tours in the university, helping with homework, and mentoring them during short summer projects in the lab (2008-2010).
American Chemical Society: I volunteered during ACS national chemistry week and other activities demonstrating concepts in chemistry to members of the general public and introducing chemistry to school children via hands-on experiments (2009-2011).
Rotaract Club of Nirma Institutes: President (2004-05) of the largest student organization on campus involved in cultural and charitable activities during my Bachelors degree; Editor (2003-04) for the Institute of Engineering monthly newsletter during my Bachelors degree.
| | |
| --- | --- |
| Last modified: | 25 October 2022 2.10 p.m. |