ing. R.G.J. Kuper
Universitair docent Accountancy & Internal Control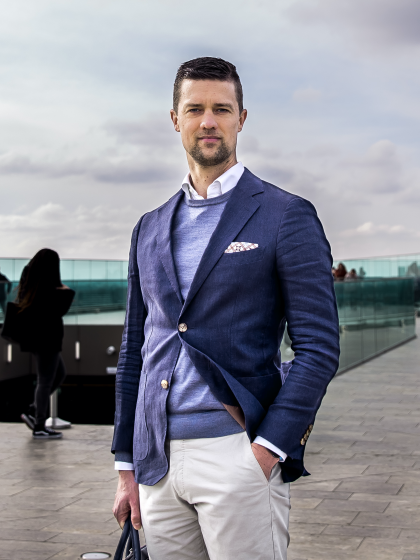 ---
Experience
Prestatieverbeteraar at KoutersVanderMeer: October 2011 - Present (5 years)
Wij zijn een bureau voor prestatieverbetering op een aantal specialistische gebieden. Ons motto is: 'Prestatieverbetering door anders kijken, anders denken, anders doen'.
Wij kijken anders
Zaken worden vaak op een technische, procesmatige manier beschouwd. Daarbij wordt de inhoud nog wel eens vergeten – terwijl het juist daar om draait. De inhoud vraagt verstand van zaken: echt weten waar het over gaat, de grote samenhang begrijpen. Vanuit de optiek van prestatieverbetering kijken wij juist naar de inhoud.
Wij denken anders
Het is onze overtuiging dat daar waar verbeterd kan worden, te snel en te veel gekeken wordt naar het disfunctioneren van mensen. Daardoor ligt de focus al snel op het inruilen van mensen. Soms is dat onontkoombaar, maar in onze visie is het effectiever om mensen sterker te maken. Dat kan door in te zoomen op datgene waar hij of zij het beste in is, en dus het meeste plezier aan beleeft. Dit zorgt voor voldoening waardoor mensen gaan excelleren. Klinkt logisch? Toch wordt deze stap vaak overgeslagen! Waar het gaat om prestatieverbetering stellen wij te allen tijden de mens centraal.
Wij doen anders
Concrete verbetering van de prestaties van onze klanten staat bij ons voorop. Door problemen en uitdagingen helder te definiëren en te koppelen aan duidelijke doelstellingen. Met als resultaat een meetbare prestatieverbetering.
Daarom dus bureau voor prestatieverbetering! Nuchter, zakelijk en resultaatgericht.
Maar ook: vol passie en plezier.
University Lecturer Accountancy & Internal Control at University of Groningen: July 2016 - Present (3 months)
University Lecturer on the Faculty Economics and Business of the University of Groningen, specialised in Information Governance and Information Management.
Docent en spreker at SRA Accountantskantoren: January 2013 - Present (3 years 9 months)
SRA is een netwerkorganisatie van 370 zelfstandige accountantskantoren met 900 vestigingen in Nederland. Er werken 20.000 professionals die kwaliteit leveren op accountancy-, fiscaal en juridisch gebied. Meer dan 50% van het midden- en kleinbedrijf is klant van een SRA-kantoor.
Kwaliteitsonderzoeker at NOREA, de beroepsorganisatie van IT-auditors: 2013 - Present (3 years)
Het bevorderen van de kwaliteit van de beroepsbeoefening is een belangrijke doelstelling van de NOREA. Daarom is door de ledenvergadering een Reglement Kwaliteitsbeheersing en een Reglement Kwaliteitsonderzoek vastgesteld. Het daadwerkelijk uitvoeren van kwaliteitsonderzoek is bovendien ook een eis die aan NOREA wordt gesteld op grond van de erkenning van RE's als auditprofessionals die assurance-opdrachten mogen uitvoeren.
Bedrijfsadviseur at De Groene Installateur: September 2004 - Present (12 years 1 month)
Begeleiding en advisering vijftiental gas, water en elektra installateurs bij stappen tot professionalisering van bedrijfsvoering.
Lid at JCI (Junior Chamber International): January 2014 - Present (2 years 9 months)
JCI Assen is aangesloten bij Junior Kamer Nederland, die op haar beurt onderdeel uitmaakt van Junior Chamber International. Dit is een wereldwijde organisatie van meer dan 350.000 leden in meer dan 120 landen. Alleen al in Nederland zijn ongeveer 2500 leden verenigd in 96 kamers. De diversiteit van de leden is uiterst belangrijk voor het leerproces, want het nationale motto van de Junior Chamber is: "learning by doing". Meer weten over Junior Kamer? Ga naar Junior Kamer Nederland.
Guest Lecturer IT-audit at University of Groningen: December 2010 - June 2016 (5 years 7 months)
Guest Lecturer IT-audit on the Faculty Economics and Business for the Executive Master of Accountancy Course.
Manager IT-audit at Ernst & Young - IT Advisory: October 2010 - September 2011 (1 year)
General IT Audit & Advisory
• Financial audit-support: een grote verscheidenheid aan IT-audits en risico-assessments gericht op de interne beheersing en de ondersteuning daarbij door automatisering
• Advies en ondersteuning bij het optimaliseren van bedrijfsprocessen en de ondersteuning daarbij door geautomatiseerde beheersmaatregelen
• Audits naar de betrouwbaarheid en inrichting van interfaces en reporting-tools
COBIT / SOx / Third Party Reporting
• SAS70 / ISAE3402 audits voor financiële instellingen, verzekeraars, asset managers en pensioenfondsen
• Sarbanes Oxley (SOx) implementaties en audits bij verschillende typen organisaties, waaronder financiële organisaties, maar ook retail en wholesale en grote industriële organisaties
• Ontwerp en evaluatie van COBIT en SOx internal control frameworks
Other
• Pre-implementation reviews en quality control functie binnen grote implementatieprojecten
• Audits op de betrouwbaarheid en controleerbaarheid van grote dataconversie-trajecten
• Security reviews op de inrichting en beveiliging van verschillende database servers (MySQL, Oracle) en operating systems (OS400, Unix, Windows)
• Betrouwbaarheids-onderzoek naar het gebruik van SQL-statements en management reports • Data analyses, bewerking en validatie van data uit financiële administraties (en audit files)
Senior IT-auditor at Ernst & Young - IT Risk and Assurance: April 2006 - September 2010 (4 years 6 months)
IT for Assurance: Third Party Reporting, Application Controls and Security, Information Security
IT for Risk: Third Party Reporting, Application Controls and Security, Information Security, IT Effectiveness, Program Advisory Services
IT for Performance: Information Management and Analysis, Application Controls and Security, Information Security, IT Effectiveness, Program Advisory Services
Ontwikkelaar at Noordhoff Uitgevers BV: September 2004 - August 2005 (1 year)
Informatieanalyse op werkwijze bij maken registers. Fine-tuning relationele database. Uitbouw Ms. Access- database tot volwaardige relationele namen-database. Besparing: twee weken per register.
Programmer / Web Developer at Philips Consumer Electronics: September 2003 - August 2004 (1 year)
Administrating and providing development support for web-based content management applications used for maintaining commercial advertisement on www.philips.com. Goal to improve and expand applications.
Docent at Hogeschool van Amsterdam: September 2003 - August 2004 (1 year)
Kennisoverdracht en begeleiding t.b.v. toetsing Ms. Word, Excel, PowerPoint en Outlook voor studenten paramedische en verpleegkundige opleidingen.
Projectleider at Ministerie van Veiligheid en Justitie: September 2002 - August 2004 (2 years)
Onderzoek naar mogelijkheden internet-omgeving. Advies gebaseerd op geïnventariseerde behoeften en wenselijkheden. Regelgeving, huidige ontwikkelingen plus andere interne en externe factoren in kaart gebracht.
Publications
Business ICT alignment: de strategic fit van een informatiearchitectuur in relatie tot de CIAA audit kwaliteitsaspecten
Vrije Universiteit November 19, 2009
Het beoogde doel of resultaat van dit onderzoek is het in kaart brengen van de mogelijkheid of mogelijkheden om in een informatiearchitectuur invulling te geven aan de kwaliteitsaspecten van een informatievoorziening en de mogelijk ondersteunende rol van het negenvlaksmodel bij dit proces.
Als zou blijken dat dit mogelijk is, zou dit een verrijking betekenen van het negenvlaksmodel en daardoor de toepasbaarheid ervan vergroten binnen het auditvakgebied, door handvatten te bieden om invulling te geven aan en te sturen op kwaliteit.
Vrije Universiteit Amsterdam: Executive Master of IT Auditing, Postgraduate IT Audit, 2006 - 2009
Activities and Societies: Management Information, Operating Systems, Data Communication, Systems
Development, Information Analysis, Databases, Information Systems Audits, Computer Centre Audits and Management Audits.
University of Groningen: Master of Science, Technology Management, 2005 - 2006
Activities and Societies: Manage Technological Innovations, Industrial Products and Processes, Knowledge of Technology, Markets, Products, Production Process, Organization, Technology and the Market, Innovation in Process and Product Technology
Amsterdam University of Applied Sciences: Bachelor, Institute for Information Engineering, 2001 - 2005
Activities and Societies: Application-oriented, Analysing Operational Processes, Organisation, Proposing
Improvements, Management Role, Realisation of a Knowledge Infrastructure, Requirements of Infrastructures
| | |
| --- | --- |
| Last modified: | 30 September 2016 3.00 p.m. |