prof. dr. O.O. Cherednychenko
Professor of European Private Law and Comparative Law / Director Groningen Centre for European Financial Services Law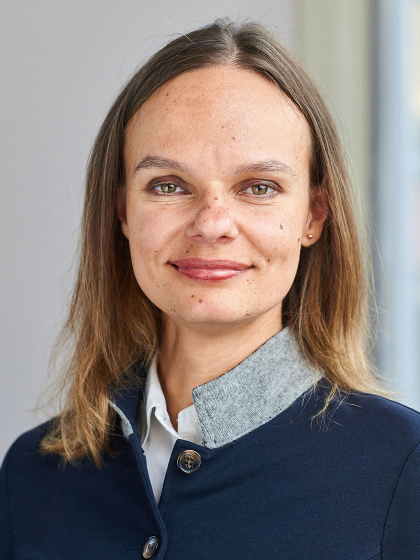 E-mail:
o.o.cherednychenko rug.nl
---
Olha Cherednychenko is a Full Professor of European Private Law and Comparative Law at the University of Groningen. She is also the founding director of the Groningen Centre for European Financial Services Law (GCEFSL). After receiving a Master of Laws in International and European Law (magna cum laude) from Utrecht University in 2002, she joined the Molengraaff Institute for Private Law at this university as a Lecturer/Ph D Researcher (2002-2006). She obtained her doctor's degree in 2007, with a thesis Fundamental Rights, Contract Law and the Protection of the Weaker Party: A Comparative Analysis of the Constitutionalisation of Contract Law, with Emphasis on Risky Financial Transactions (Munich: Sellier European Law Publishers, 2007) which received honourable recognition from the Dutch Commission for the Evaluation of Legal Research 2009. She then worked as a Senior Lecturer in Private Law at the VU University of Amsterdam (2006-2011). Since 2012 she has held the Chair in European Private Law and Comparative Law at the University of Groningen. She has also been a Visiting Fellow/Professor at the European University Institute (EUI), Florence; the Institute of European and Comparative Law (IECL), University of Oxford; the London School of Economics and Political Science (LSE); the Institute of Advanced Legal Studies (IALS), University of London; and the University of Turin. As a project leader and/or senior researcher, she has been regularly involved in European research projects, most recently for the European Parliament and the European Commission. She is also a member of several centres of expertise, among which the Amsterdam Centre for Insurance Studies (ACIS), University of Amsterdam and the Centre for Philosophy, Politics and Economics, University of Groningen.
The research of Olha Cherednychenko focuses on the role of private law in the process of European market integration and the interaction between national and supranational legal orders and public and private governance mechanisms more generally. She is particularly interested in the following three closely interrelated themes:
1) the role of private law in constituting and regulating markets in the public interest, in particular in the financial services markets;
2) the interplay between market regulation and traditional private law as well as the public and private enforcement mechanisms;
3) the impact of fundamental rights and freedoms on private law.
She explores these themes by conducting cross-cutting comparative and interdisciplinary research at the intersection of European internal market law and national law, public and private law, as well as the law and other academic disciplines, such as economics, psychology, and sociology.
| | |
| --- | --- |
| Last modified: | 07 June 2020 4.59 p.m. |