dr. M.J. (Maryse) Brand
Associate Professor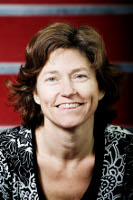 ---
Maryse Brand has a degree in Business Economics from the University of Groningen. In 1987 she started as a PhD student at the Faculty of Economics, and in the period 1990-1994 she worked as a marketing researcher at the same faculty.
In 1993 Ms. Brand finished her PhD-thesis titled: 'Effectiveness of the Industrial Marketing Mix'. This thesis focused on industrial marketing, organisational buying behaviour and purchasing. Process simulation was the main research methodology used.
In the period 1994-1997, Ms. Brand was working as a small business consultant for a firm called Small Business Management Consultants (SMBC). In this firm she was member of the management team and responsible for the internal organization of SBMC. The projects she was involved in concerned: quality systems, safety systems, marketing strategy, marketing research, organizational development and staffing policy. Customers were mainly from the building & contracting sector, but also from transportation, installation services, and furniture production, among others.
From 1997-2002 Mrs. Brand was a part-time self-employed small business consultant.
In December 1997, Ms. Brand joined the faculty of Management and Organisation at the University of Groningen. One of her tasks was to develop the new MScBA Small Business & Entrepreneurship.
Starting december 2000, she is associate professor of Small Business & Entrepreneurship at this faculty. Responsibilities include teaching, research, and management.
From July 2010 till January 2019, Ms. Brand has been chair of the department Innovation Management & Strategy.
Currently (November 2020) Ms, Brand has just started as programme director of the faculty's PreMSc Programme, a programme that draws over 500 students each year. From January 2021 she will also join the project team heading the 4 year project 'FEB Curriculum 2024'.
| | |
| --- | --- |
| Last modified: | 25 June 2022 2.16 p.m. |