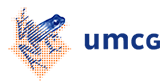 prof. dr. M.A.J. (Marina) de Koning-Tijssen m.a.j.de.koning-tijssen umcg.nl
---
Prof dr Marina AJ de Koning-Tijssen (1964) started her medical studies in 1982 and finished (cum laude) in 1990 at the Leiden University. For her doctoral thesis she worked for five months as a research fellow with Prof DS Zee, Department of Neurology, Johns Hopkins University, Baltimore, USA.
In the period 1991 -1998 she was a resident at the department of neurology, Leiden University Medical Centre (Prof Dr RAC Roos). She defended her thesis' Hyperekplexia, startle disease' in 1997 and finished her neurology training in 1999.
As a clinical and research fellow she worked 14 months (1998-1999) at the prestigious MRC Human Movement and Balance Unit, The Institute of Neurology, Queen Square, London, England with prof P Brown.
From September 1999 till January 2012 she worked as a neurologist and from 2007 as Principal Investigator in the department of neurology, Academic Medical Centre, Amsterdam. During this period she was co-promotor five times. Over the years she supervised several medical students, PhD students, research fellows, and neurologists performing a clinical fellowship. She regularly is member of PhD defending committees, gives lectures, teaching courses, and organises national and international congresses.
In January, 2012 she started as professor in Movement Disorders at the department of neurology, University Medical Centre Groningen.
The most prestigious prizes awarded to her are the NWO-VIDI Laureaat (2004) for the project "Myoclonic Dystonia: borderland between neurology and psychiatry" and the ZonMW-TOP grant (2019) for the project " Next Generation Phenotyping: The next move in movement disorders".
Research
Her research line Jerky movements (Myoclonus-Tics-Startle) & Dystonia is from basic research to patient care.
Clinical studies are focussed on the phenotyping the movement disorders and studying the psychiatric and cognitive co-morbidity.
Basic research is focussed on genetic aspects. A large database on hyperkinetic movment disorders has been built and genetic studies are performed
Functional studies include neurophysiological and imaging studies (functional MRI and SPECT/PET). The aim of the functional studies is to improve diagnostic procedures and to gain inside in the pathophysiology of movement disorders.
The major project NEMO, is focussed on the classification of hyperkinetic movement disorders,with the use of a smart camera, movement sensors, and electromyography. These data will be integrated and used for pattern recognition analysis with machine learning with the ultimate aim to develop a computer aided diagnosis system (CAD-tool), that will help doctors to diagnose the right movement disorder
Care
In 2010 she initiated DystonieNet, a national collaboration between neurologists and physical therapists on research, education and treatment of cervical dystonia in collaboration with the neurology departments of the UMCG, AMC, LUMC, and UMCN. At the UMCG she is one of the initiators of the multidisciplinary outpatient clinic pediatric movement disorders (2012). In 2014 the neuropsychiatric movement disorder multidisciplinary outpatient clinic started.

She is head of the in 2015 officially established Expertisecenter for movement disorders in children and adults. The centre is officially part of the European Rare Network (ERN) for rare neurological disorders. The centre includes several disorders: dystonia, myoclonus, paroxysmal dyskinesia, hyperekplexia, psychogenic movement disorders, ataxia, GOSR2, rare choreic movement disorder & Huntington's disease, neurodegeneration with brain iron accumulation, and neurometabolic disease related to movement disorders.
In 2020 she intiated the first botulinum toxin street. The aim of this street is to make the care of dystonia patients referred to the UMCG a lot more efficient and patient-friendly.
Website http://movementdisordersgroningen.com/
| | |
| --- | --- |
| Laatst gewijzigd: | 25 juni 2022 01:25 |