dr. J.J.H. (Jacqueline) Klooster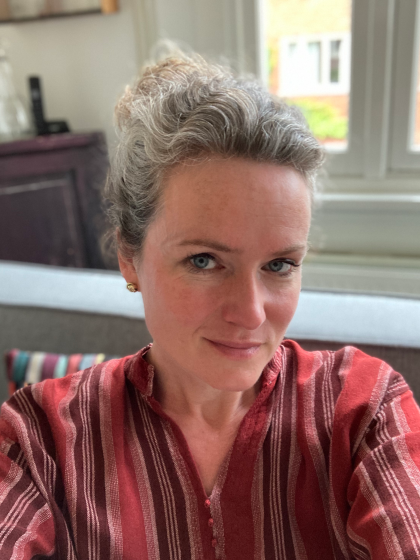 ---
For my published work and work in progress, please see under the header 'Research'.
Previous employments
2012- 2015: Post-doc / Marie Curie-Pegasus FWO-fellow at University of Ghent, project : A portrait of the statesman as an artist (1,0 fte); guest researcher at Amsterdam University (0 fte).
2009-2012: Post-doc Greek Literature in NWO project Space in Ancient Greek Narrative (0,75 fte), Universiteit van Amsterdam (supervisor Irene de Jong)
2003- 2008: PhD Student at Institute for History and Culture, University of Amsterdam (0,75 fte, incl. 3 months pregnancy leave, April-July 2008)
2007: Lecturer Literary Theory, University of Utrecht
2001- 2003: Teacher of Classical languages and Cultures at Barlaeus Gymnasium (secondary school), Amsterdam
2000: Teacher of Classical Languages and Cultures, Laar en Berg, Secondary school Laren
Education
2003-2008: PhD student at Amsterdam University, supervisors I. de Jong; M.A. van Erp Taalman Kip; external examiners: Richard Hunter (Cambridge); M.A. Harder (Groningen); W. Weststeijn (Amsterdam)
2003-2008: Educational program of OIKOS, the Dutch National Research School for Classical Studies
2002: MA in Secondary Education, ILO Amsterdam
2001: MA Greek and Latin Languages and Cultures (cum laude), University of Amsterdam
1998-2001: Italian languages and Cultures (minor, BA level), University of Amsterdam
1998: Greek and Latin Languages and Cultures at, Università degli Studi di Bologna (Erasmus)
Funding, Grants, and Prizes
2020-2021 NIAS Individual Fellowship
2019 Shortlisted Lecturer of the Year Faculty of Letters
2018 Winner Zenobia Essay Prize
2012 Marie Curie/Pegasus Fellowship FWO (Flemish Research Council): three year full time post-doc mandate, University of Ghent;
2012 Winner essay prize of Academische Boekengids/Vrij Nederland, for the best academic essay by a young researcher (prize: 2500 euro and publication in ABG #91)
2011 8000 euro for the organization of an international conference "Space in Literature" from Dutch Royal Academy of Sciences, Institute for History and Culture (UvA), OIKOS, VAL (Flemish research school for Literary Studies)
2009 NWO (Dutch Research Council) Postdoc Fellowship Classics at University of Amsterdam (4 years 0,75 fte): project Space in Hellenistic Poetry
2008 OIKOS grant for finishing dissertation within time limit (500 Euro)
2007 Fondation Hardt, young scholar's fellowship
2003 Institute for History and Culture PhD Grant for 4 years fulltime (=5 years 0,75 fte)
1998 Erasmus scholarship: funding for one semester at Universita degli Studi di Bologna
Teaching
Over the years, I have taught on BA and MA levels: beginners Greek, Greek syntax and semantics, Literary history of Antiquity, Ancient Lyric, Epic (Homer), Historiography, specific thematic courses on MA level (Writing Rulers in Antiquity); CMRS Approaches.
| | |
| --- | --- |
| Laatst gewijzigd: | 25 juni 2022 10:29 |