dr. C.M. (Corine) Eising
Beleidsmedewerker / PhD Coordinator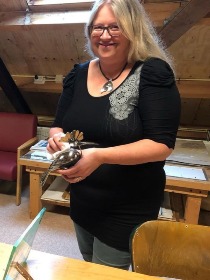 ---
Opleiding
1998-2003 (0.8 fte): Promotie onderzoek, Rijksuniversiteit Groningen.
1988-1995: Studie Biologie, Rijksuniversiteit Groningen en Rijksuniversiteit Utrecht.
Werkervaring
Februari 2009 – heden: Onderwijscoordinator / Beleidsmedewerker Groningen Institute for Evolutionary Life Sciences (GELIFES; voorheen Centre for Ecological & Evolutionary Studies), RuG (0.8 fte). Mijn werkzaamheden bestaan onder meer uit het ontwikkelen, organiseren en ten dele geven van onderwijs voor promovendi. Daarnaast verstrek ik informatie afkomstig uit diverse bronnen richting promovendi en docenten, zorg voor een efficiënte administratie bij aanmelding, ben verantwoordelijk voor de financiën en webpagina's van de Research School Ecology & Evolution, fungeer als vraagbaak, vertrouwenspersoon en mediator voor de promovendi en onderhoud contact met docenten (inter)nationaal wat betreft cursussen voor en begeleiding van promovendi. Tenslotte verzorg ik als lid van het GELIFES Office allerhande hand- en spandiensten voor de GELIFES directeur en het GELIFES bestuur.
Augustus 2008 – december 2008: Freelancer voor de Nederlandse Ornithologische Unie, Groningen. Werkzaamheden bestonden m.n. uit het ontwikkelen van een vereniging brede enquête, zowel in het Engels als in het Nederlands, het uitwerken en interpreteren van de gegevens en deze terugkoppelen naar het NOU bestuur en de redactie van Ardea en het schrijven van flyer en website teksten.
Mei 2008– juli 2008: Ecologisch adviseur (freelance), Altenburg en Wymenga Ecologisch Adviesburo, Veenwouden. Hier was ik betrokken bij de organisatie en uitvoering van een serie workshops aangaande het ontwerp van een 8-tal eco-passages in de Provincie Gelderland.
Mei 2005 – april 2008: Wetenschappelijk Onderzoeker (0.8 fte), Percy FitzPatrick Institute of African Ornitholgy, Universiteit van Kaapstad, Zuid Afrika. Als Postdoc heb ik mijn eigen onderzoek ontwikkeld en uitgevoerd, publicaties geschreven en studenten onderwezen en begeleid.
Juni 2004 - april 2005: Wetenschappelijk Onderzoeker (0.6 fte), Universiteit van Antwerpen, België. Hier bestonden mijn werkzaamheden uit het uitvoeren van Radio Immunologische Assays om hormoon bepaling in eieren te doen, het statistisch analyseren van de verzamelde data en het schrijven van een publicatie.
December 2003 – mei 2004: ouderschapsverlof, met in maart 2004 de promotie verdediging.
Mei 1998 - november 2003: Promotieonderzoek (0.8 fte), Rijksuniversiteit Groningen, getiteld: 'Mother knows best? Costs and benefits of differential maternal hormone allocation in birds'. In deze functie was ik verantwoordelijk voor het uitvoeren van alle facetten van wetenschappelijk onderzoek.
Januari - februari 1998: Veldassistent (Melbourne University, Australië) op Cousin Island, Seychellen.
| | |
| --- | --- |
| Laatst gewijzigd: | 25 juni 2022 14:38 |