C. (Cecília) Barreto de Almeida
PhD student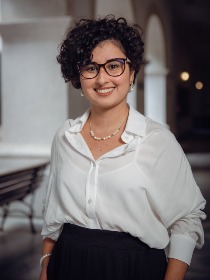 E-mail:
c.barreto.de.almeida rug.nl
---
Expertise
Ph.D. candidate at the University of Groningen (RUG) and University of São Paulo (USP), with a scholarship from CAPES (2023).
Master of Laws (2020) and bachelor in Law (2016) at the University of São Paulo.
Scholarship holder from CAPES at the Wissenschaftszentrum Berlin für Sozialforschung (WZB) in the project Law in the Digital Age (FGV) (2020).
Scholarship holder from the German Academic Exchange Service (DAAD) in an undergraduate sandwich (specialization in German Law) at the Ludwig-Maximilians-Universität Munich (LMU) (2014-2015).

Ph.D. research (ongoing): Based on empirical data on social inequality and the digital divide, I plan to relate precarious citizenship to digital citizenship in the context of e-government in Brazil and the Netherlands. Through this research, I intend to answer the following central question: To what extent do governments' digital transformation strategies reproduce or remove barriers to access and the exercise of citizenship by vulnerable groups?

Master (2020): In my dissertation TRANSCITIZENSHIP: Trans-forming the system? The perception of citizenship of trans people benefited by a public policy in São Paulo; I analyzed in which ways the "Transcidadania Program" defines citizenship and if these definitions contemplate the experiences of the trans population; I examined if and how these definitions were incorporated into the Program; and, finally, if and how this public policy plays a role in building the perception of beneficiaries about citizenship and about being citizens. The research involved a multi-method approach through document analysis, participant observation, semi-structured interviews, and life history interviews.

Other positions
Professor and supervisor at the Brazilian Society of Public Law (SBDP)
Coordinator of the Centre for Inclusion in Academia (GPEIA) - USP
Coordinator of the Discrimination, Diversity and Law Center (DDD) - USP
Coordinator of the "Incluir Direito" Project - USP
| | |
| --- | --- |
| Last modified: | 10 December 2023 08.51 a.m. |