prof. dr. B. (Bert) Poolman
Professor in Biochemistry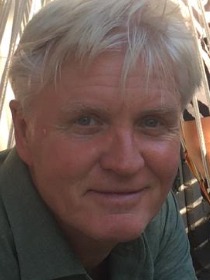 ---
POOLMAN, Ph.D., Bert
Family name: Poolman
Name: Bert
Date of birth: May 8th, 1959
Email: b.poolman@rug.nl
Website I: https://membraneenzymology.com
Website II: www.rug.nl/fmns-research/enzymology/index
ORCID: https://orcid.org/0000-0002-1455-531X
Wikipage: https://en.wikipedia.org/wiki/Bert_Poolman
Present Position
Full professor in Biochemistry & Program director of the Centre for Synthetic Biology
Chair: Membrane Enzymology
Institutes: Groningen Biomolecular Sciences and Biotechnology Institute & Zernike Institute for Advanced Materials
University of Groningen, Nijenborgh 4, 9747 AG Groningen The Netherlands.
tel. +31 (0)50 363 4190 / 4209 (secr)
fax +31 (0)50 363 4165
e-mail: b.poolman@rug.nl
Short Biography
Bert Poolman was trained in bioenergetics and microbiology and is now active in biochemistry and biophysics. Poolman has a track record in vectorial biochemistry, including metabolic energy conservation, membrane transport and cell volume regulation as well as the development of innovative technologies in membrane biology and bottom-up synthetic biology. He has advanced the field of ATP-binding cassette (ABC) and secondary active transporters by combining functional and structural studies. Central questions in the Poolman group are: (i) What tasks should a living cell minimally perform and how this can be accomplished with a minimal set of components? (ii) How do molecules permeate biological membranes? (iii) How can one control the volume and physicochemistry of the cell?
The main current research areas include:
· Building of synthetic cells: construction of functional far-from-equilibrium systems for metabolic energy conservation and membrane expansion.
· Cellular homeostasis: elucidation of the (transport) mechanisms that control the physicochemistry and volume of the cell.
· Structure and dynamics of the cytoplasm: understanding of the heterogeneity and spatiotemporal segregation of (macro)molecules in the bacterial cytoplasm.
Career
| | |
| --- | --- |
| 2014 - 2020 | Director of the Groningen Biomolecular Sciences and Biotechnology Institute |
| 2008 - present: | Program director Centre for Synthetic Biology |
| 2003: | Visiting professor in Biochemistry at the Division of Chemistry and Chemical Engineering at California Institute of Technology, Pasadena, U.S.A. |
| 1999 – present: | Professor in Biochemistry, University of Groningen |
| 1995 – 1999 : | Ass. Professor (UHD) in Microbiology, University of Groningen |
| 1989 – 1994: | Research fellow of the Royal Netherlands Academy of Arts and Sciences (KNAW) |
| 1991: | Short-term Working Visit to Transgene , S.A. , Strasbourg , France (EMBO fellow) |
| 1987 – 1989: | Scientist at Genencor Inc. (Molecular Biology and Genetics Group), South San Francisco , U.S.A. |
| 1984 – 1987: | Ph. D. Student at the Department of Microbiology, University of Groningen , The Netherlands |
Education
| | |
| --- | --- |
| 1987: | Ph.D. Degree in Microbiology (Cum laude) |
| 1984: | Masters Degree in Molecular Biology and Biochemistry (Cum laude) |
| 1983 – 1984: | Undergraduate student at the University of Bern, Switzerland; Biochemistry training at the "Medizinisch-Chemisches Institut" |
Publications
Over 360 publications in peer refereed international scientific journals (h-index of 76, more than 20,000 citations in Web of Science; 13 book chapters; 4 patents.
Poolman and Schrauwers wrote the book "Synthetische Biologie: de Mens als Schepper" (in Dutch 2011 and translated into German in 2013);
Poolman supervised >70 Ph.D. students and 30 post docs; 15 former members of the Poolman group now hold their own academic position (junior to senior professorship), other former group members hold senior R&D positions at SMEs or companies (e.g. DSM, Philips, Friesland-Campina, Jansen Chimica, Danone-Nutricia, Crucell, Sanofi, QPS Holdings).
Keywords: Membrane transport, ABC transporters; bioenergetics; biogenesis of membrane proteins; cell volume regulation; protein diffusion and traffic; synthetic biology; membrane reconstitution; synthetic cells; optical microscopy.
Major Fellowships and Honours (selection)
1989: Biochemistry Award of the Dutch Biochemistry Organisation (NVBMB)
1989: Fellowship from the Royal Netherlands Academy of Arts and Sciences (KNAW)
1992: Program Co-ordinator: 'Molecular Biology of Secondary Transport Proteins' Funded by the Human Frontier Sciences Program Organisation (HFSPO)
1996: Program Co-ordinator of the EU-funded Project on 'Structure of Membrane Proteins'
1997: Award in the SON programme 'Jonge Chemici'
2001: Award of the NWO top grant for support of the research on ABC transporters
2003: Fulbright Scholarship and visiting professorship at California Institute of Technology, Pasadena, U.S.A.
2006: Award of NWO Top Subsidy
2006: Rated as ISI highly cited researcher
2009: Elected as member of the Royal Netherlands Academy of Arts and Sciences (KNAW)
2010: NWO Top-GO subsidy on membrane protein biogenesis
2011: Elected as Faculty 1000 member
2011: Award of ITN-NICHE network grant
2012: Member of Faculty 1000 board
2013: Chairman of KNAW Earth and Life Sciences Board2013: Member of the Program committee New Chemical Innovations (NWO)
2015: Member of the Board of NIBI (Nederlands Instituut voor Biologie)
2015: ERC Advanced Grant
2016 Joel Mandelstam Memorial Lecture Award
2017: NWO Gravitation Award BaSyC (10-year funding program)
2019: ERC Advanced Proof-of-Concept
2020: NWO NWA program grant (with Heinemann)
2021: NWO program grant (with Paulino)
2021: Knighted in the Order of the Dutch Lion
| | |
| --- | --- |
| Last modified: | 13 March 2023 1.45 p.m. |