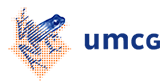 dr. B.M. (Bauke) de Jong
Neurologist
---
Dr. Bauke M. de Jong (1957) studied Medicine in Groningen and performed his Ph.D. study in the Netherlands Institute for Brain Research, Amsterdam (Prof. D.F. Swaab, Amsterdam University). Research themes concerned the development of a tissue culture technique for growing neocortex explants obtained from neonatal rat brain, and the study of cytoarchitectural maturation in this cultured tissue. Secondly, uptake of SPECT radiopharmaceuticals was tested both in this cultured tissue and in laboratory animal (rat). These studies were performed in collaboration with the department of Nuclear Medicine of the Amsterdam University Hospital (AMC). Subsequent training in Neurology was in Groningen again (Prof. J.M. Minderhoud, Prof. H.J.G.H. Oosterhuis). This training included a 10 month stay as research-fellow at the MRC Cyclotron Unit, Hammersmith Hospital London (1993), participating in rCBF activation studies concerning visual perception and visuomotor control (Prof. R.S.J. Frackowiak, Prof. S. Zeki).
As member of staff at the Department of Neurology (University Medical Center Groningen) his work includes both clinical tasks and functional neuroimaging with PET and fMRI. Two subjects of personal interest are the functional anatomy underlying higher order motor control (collaboration Prof. M. de Koning-Tijssen, Prof. K.L. Leenders, Prof. T. van Laar, Prof H.P.H. Kremer) and the cerebral pathophysiology following head-injury. With regard to the cerebral organization of movement, normal conditions and pathology in Movement disorders (Parkinson's disease) are studied. With fMRI, basic aspects of motor planning concerning sensorimotor transformations, timing, effector selection and balances between influences of external cues versus internal intentions are addressed. In normal conditions, motor performance is also studied in expert music performers. Recently, Diffusion Tensor Imaging (DTI) is additionally employed.
In clinical practice, long-standing clinical expertise with 18F-FDG PET and analysis support allows the employment of high-quality strategies in differential diagnosis concerning neurodegenerative diseases. This includes advanced image-statistical analyses. Recently, combined modelling of various PET tracers (including 11-C PIB) became a topic of interest.
| | |
| --- | --- |
| Last modified: | 22 August 2023 12.22 p.m. |