Support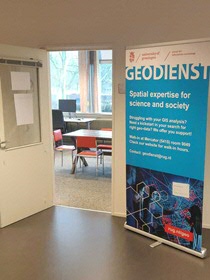 Walk-in hours
Note: Due to the coronavirus the walk-in hours will temporarily not take place. Do you have a question? Please send us an email!

Location:
Mercator 5415.0049 (next to the CIT Servicedesk)
Time:
Mon 2 p.m. - 4 p.m.
Thu 10 a.m. - 11.30 a.m.
Meet our supporters
Jochem Dorrestein - Junior GIS Specialist

Sometimes maps can tell a story better and more objective than text. Besides being a supporter for the Geodienst, I am also a student in Archeology. Maps have always had a big impact in visualizing and interpreting the data in my field of work. From small excavations, where house plans are being documented in their geographical context relative to other findings, to large areas, where insights about possible connections are being provided by means of highlighting objects on a map. I am specializing myself in the use of GIS to get more grip on our past, from the prehistory until World War II.

Jarieck Manning - Junior GIS Specialist

I am a third year student Human Geography & Urban and Regional Planning at the Faculty of Spatial Sciences. What I find interesting about GIS and Cartography is that the geographical component can be the link between abstract numbers and concrete phenomena, making them more comprehensible.

Hannah ter Steege - Junior GIS Specialist



Hi! My name is Hannah and I am currently finishing my Bachelor Spatial Planning and Design. From September I will start the Master Landscape History. I have a broad interest, from physical geography to governance, and the spatial component is what can bring those interests together. By working with GIS, you have the opportunity to operate in very different fields, and that makes me love my job.

Wouter Wijbrands - Junior GIS Specialist



Hi! I'm Wouter. I'm a third year student spatial planning at the university and I additionally work at the Geodienst as a GIS specialist. I think it's wonderful that you can give anything a spatial component. Complex data can be transformed into attractive maps, and so it becomes understandable for all. Drop me a line, give me a call of just come by to let me help you achieve just that.
| | |
| --- | --- |
| Last modified: | 23 March 2021 2.00 p.m. |