Support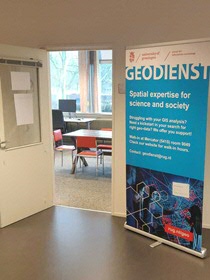 Walk-in hours
Note: Due to the coronavirus the walk-in hours will temporarily not take place. Do you have a question? Please send us an email!

Location:
Mercator 5415.0049 (next to the CIT Servicedesk)
Time:
Mon 2 p.m. - 4 p.m.
Thu 10 a.m. - 11.30 a.m.
Meet our supporters
Johan Bergsma - GIS Specialist

Hi reader! My name is Johan and I have been working as a GIS specialist at the Geodienst for over three years now. Here I work on the helpdesk and I give QGIS workshops. In addition, I am still studying, hopefully I will finish my master's in economic geography in early 2021. Be sure to drop by the walk-in hours if you have any questions, you will receive a free cup of RUG coffee!

Bart Roelofs - GIS Specialist

Hi, my name is Bart and I'm a research master student at the Faculty of Spatial Sciences. My expertises are in health, network analysis and visualisation. I'm also posting parts of our work to the the social-media channels of the Geodienst. You can find us on Twitter, Instagram, Facebook and Reddit.

Jochem Dorrestein - Junior GIS Specialist

Sometimes maps can tell a story better and more objective than text. Besides being a supporter for the Geodienst, I am also a student in Archeology. Maps have always had a big impact in visualizing and interpreting the data in my field of work. From small excavations, where house plans are being documented in their geographical context relative to other findings, to large areas, where insights about possible connections are being provided by means of highlighting objects on a map. I am specializing myself in the use of GIS to get more grip on our past, from the prehistory until World War II.

Jarieck Manning - Junior GIS Specialist

I am a third year student Human Geography & Urban and Regional Planning at the Faculty of Spatial Sciences. What I find interesting about GIS and Cartography is that the geographical component can be the link between abstract numbers and concrete phenomena, making them more comprehensible.
| | |
| --- | --- |
| Last modified: | 18 August 2020 08.43 a.m. |