Workshop 'Technical & ethical aspects of digital image manipulation'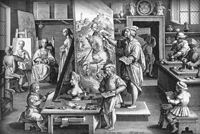 This workshop shows you how to generate representative and scientifically justifiable digital images for presentations and publications. It introduces and raises awareness of responsible conduct in research, with the emphasis on the technical advantages and limitations of image manipulation.
The use of digital cameras, computers and accompanying imaging software (e.g. Photoshop, Paint Shop, etc.) have made the manipulation of images (think of microscopical recordings, protein and DNA gels/blots, bio-scans) an indispensable aspect of science today. However, the steady technical advances in image acquisition and manipulation also raise important issues concerning their limitations in generating representative and scientifically responsible images for presentations and publications. During this workshop, the participants explore the borderline between 'data misrepresentation' and 'getting the most out of the available technical possibilities' and, in this way, explore the borderlines that separate honest error, negligent error and scientific misconduct.
The workshop takes one afternoon and has an informal structure. Following a welcome word and introduction by Sven van IJzendoorn (Department of Cell Biology, UMCG), several cases (fictional and non-fictional) will be presented to provoke lively discussions. Frans van Hoesel, head of the Centre for High Performance Computing and Visualisation (HPC/V), will talk about the technical details with regard to the possibilities and limitations of digital imaging techniques and software.
| | |
| --- | --- |
| Last modified: | 21 January 2017 09.17 a.m. |