Reality Theatre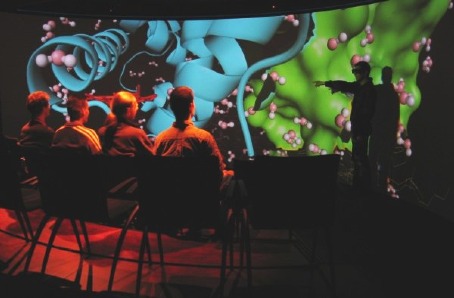 The Reality Theatre is a Virtual Reality setup for interactive 3D presentations to large groups of people. Popular applications include office design, landscape design and other architectural visualizations.
Interactivity
Unlike the 3D shows in amusement parks or cinemas, the software in the Reality Center is fully interactive. An operator controls a virtual camera and can visit any place in the 3D world. He can also, for example, add trees, change the color of a molecule or move an entire building.
Technology
In the Reality Theater 3D (stereoscopic) images are projected on a super widescreen, cylindrical screen of 8.5 meters wide and 2.80 meters high. To achieve this, there are six projectors whose images blend seamlessly into each other using 'blending'. The six full HD projectors generate 120 images per second (almost 1,500,000,000 pixels per second in total). In this way, a maximum of 20 spectators can view a virtual world - through special glasses - generated in real time by the machines of the visualization cluster.
Flexible setup
For most applications, the audience sits on a sloping podium with three rows of seats, but if necessary, that podium can be removed and replaced, for example, with conference tables, or even a complete model of a bus cabin.
| | |
| --- | --- |
| Last modified: | 27 July 2023 3.46 p.m. |