Bio-inspired, smart, responsive materials
This work aims at understanding and designing bio-inspired, smart and responsive materials by developing computational models (molecular dynamics, solid-fluid interaction techniques and finite-element models) for application in, e.g., NEMS/MEMS, microfluidic systems and lab-on-chip applications. Emphasis is on magneto-, electro- and photomechanical interactions.
1. Switchable surface topographies by photo-responsive liquid crystal coatings
We use azobenzene-modified liquid-crystal polymers to design coatings that can be switched by light. We focus on different surface topographies and analyze the underlying physical mechanisms by using continuum modelling to describe the light attenuation process and the internal stress distributions that are key in generating the patterns. We study micro-domain, linearly patterned and fingerprint coatings, the effect of dual wavelength light and we generate surface waves by rotating a polarized light source.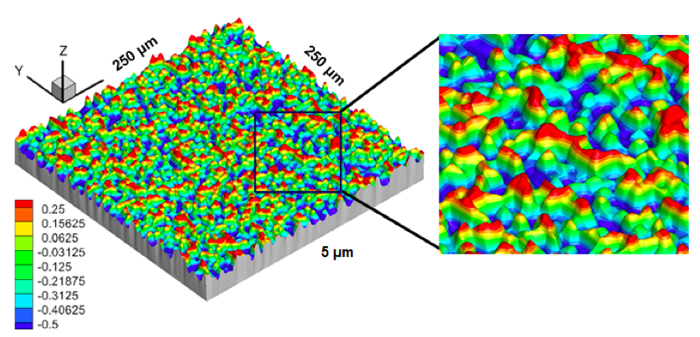 PhD student: L.Liu. In collaboration with D.J. Broer (Eindhoven University of Technology) and R.K. Annabattula (IIT Madras).
Publications
2. Digital microfluidics: droplet transport on switchable surfaces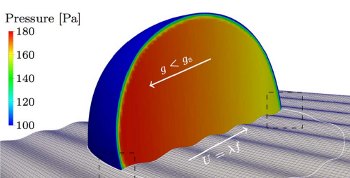 In digital-microfluidic systems, discrete droplets containing biofluids or particles are used as small reactors, and transporting droplets with full control over their contents is an essential property of such systems. Here we show that surface topographies made from switchable materials are able to transport droplets through dynamic pinning forces. The transport performance was demonstrated in both 2D and 3D and its dependence on the fluid and structural parameters was numerically investigated by means of a two-phase computational fluid dynamics model.
PhD student: E. de Jong. In collaboration with J. den Toonder (Eindhoven University of Technology).
Publications
De Jong, E., Wang, Y., Den Toonder, J. M. J., & Onck, P. R. (2019). Climbing droplets driven by mechanowetting on transverse waves. Science Advances,5(6), [eaaw0914]. DOI: 10.1126/sciadv.aaw0914
Akhtar, N., Thomas, P. J., Svardal, B., Almenningen, S., de Jong, E., Magnussen, S., ... Holst, B. (2018). Pillars or Pancakes? Self-cleaning surfaces without coating. Nano Letters, 18(12), 7509-7514. DOI: 10.1021/acs.nanolett.8b02982
3. Bio-inspired, artificial cilia and flagella

Cilia and flagella are long hair-like projections from the surface of living cells that play an important role in cell motility. Cells and micro-organisms use cilia and flagella to propel themselves or to propel the fluid surrounding them. Here we use the natural beating pattern as inspiration to design bio-inspired cilia and flagella. We use polymeric films embedded by magnetic nanoparticles that are actuated by applying a rotating or oscillating magnetic field. We demonstrated that artifical cilia and flagella can be generated that pump fluid through microfluidic channels and that can swim through confined spaces. Current work aims at designing artificial cilia for use as active antifouling coatings and to transport particles.
PhD students: R. Zhang, S. Namdeo, S.N. Khaderi. In collaboration with J. den Toonder (Eindhoven University of Technology).
Publications (selection)
Zhang, S., Zuo, P., Wang, Y., Onck, P. R., & den Toonder, J. M. J. (2020).

Anti-Biofouling and Self-Cleaning Surfaces Featured with Magnetic Artificial Cilia

.

ACS Applied Materials & Interfaces

,

12

(24), 27726–27736.

https://doi.org/10.1021/acsami.0c05403

Zhang, S., Wang, Y., Onck, P. R., & den Toonder, J. M. J. (2019). Removal of Microparticles by Ciliated Surfaces-an Experimental Study. Advanced Functional Materials, 29(6), [1806434]. DOI: 10.1002/adfm.201806434
Zhang, S., Wang, Y., Lavrijsen, R., Onck, P. R., & den Toonder, J. M. J. (2018). Versatile microfluidic flow generated by moulded magnetic artificial cilia. Sensors and actuators b-Chemical, 263, 614-624. DOI: 10.1016/j.snb.2018.01.189
Namdeo, S., & Onck, P. R. (2016). Emergence of flagellar beating from the collective behavior of individual ATP-powered dyneins . Physical Review E , 94(4), [042406]. DOI: 10.1103/PhysRevE.94.042406
Khaderi, S. N., den Toonder, J. M. J., & Onck, P. R. (2015). Magnetic Artificial Cilia for Microfluidic Propulsion. In S. P. A. Bordas, & D. S. Balint (Eds.), Advances in Applied Mechanics. (Vol. 48, pp. 1-78). Academic Press. DOI: 10.1016/bs.aams.2015.10.001
Namdeo, S., Khaderi, S. N., & Onck, P. R. (2014). Numerical modelling of chirality-induced bi-directional swimming of artificial flagella . Proceedings of the royal society a-Mathematical physical and engineering sciences , 470(2162), [20130547]. DOI: 10.1098/rspa.2013.0547
Namdeo, S., Khaderi, S. N., & Onck, P. R. (2013). Swimming dynamics of bidirectional artificial flagella . Physical Review E , 88(4), 043013-1-043013-11. [043013]. DOI: 10.1103/PhysRevE.88.043013
den Toonder, J. M. J., & Onck, P. R. (2013). Microfluidic manipulation with artificial/bioinspired cilia . Trends in Biotechnology , 31(2), 85-91. DOI: 10.1016/j.tibtech.2012.11.005
Khaderi, S., den Toonder, J. M. J., & Onck, P. (2013). Computational Design of Magnetic Artificial Cilia. In J. M. J. den Toonder, & P. R. Onck (Eds.), Artificial Cilia. Cambridge, UK: The Royal Society of Chemistry.
Khaderi, S., Hussong, J., Westerweel, J., den Toonder, J., & Onck, P. (2013). Fluid propulsion using magnetically-actuated artificial cilia: Experiments and simulations . Rsc Advances , 3(31), 12735-12742. DOI: 10.1039/c3ra42068j
Khaderi, S. N., & Onck, P. R. (2012). Fluid-structure interaction of three-dimensional magnetic artificial cilia . Journal of Fluid Mechanics , 708, 303-328. DOI: 10.1017/jfm.2012.306
Khaderi, S. N., den Toonder, J. M. J., & Onck, P. R. (2012). Magnetically Actuated Artificial Cilia: The Effect of Fluid Inertia . Langmuir , 28(20), 7921-7937. DOI: 10.1021/la300169f
Khaderi, S. N., den Toonder, J. M. J., & Onck, P. R. (2012). Fluid flow due to collective non-reciprocal motion of symmetrically-beating artificial cilia . Biomicrofluidics , 6(1), 014106-1-014106-14. [014106]. DOI: 10.1063/1.3676068
Khaderi, S. N., den Toonder, J. M. J., & Onck, P. R. (2011). Microfluidic propulsion by the metachronal beating of magnetic artificial cilia: A numerical analysis . Journal of Fluid Mechanics , 688(1), 44-65. DOI: 10.1017/jfm.2011.355
Namdeo, S., Khaderi, S. N., den Toonder, J. M. J., Onck, P. R., Colin, S. (Ed.), & Morini, G. L. (Ed.) (2011). Swimming direction reversal of flagella through ciliary motion of mastigonemes . Biomicrofluidics , 5(3), 034108-1-034108-15. [034108]. DOI: 10.1063/1.3608240
Khaderi, S. N., Craus, C. B., Hussong, J., Schorr, N., Belardi, J., Westerweel, J. , ... Onck, P. R. (2011). Magnetically-actuated artificial cilia for microfluidic propulsion . Lab on a Chip , 11(12), 2002-2010. DOI: 10.1039/c0lc00411a
Khaderi, S. N., Baltussen, M. G. H. M., Anderson, P. D., den Toonder, J. M. J., & Onck, P. R. (2010). Breaking of symmetry in microfluidic propulsion driven by artificial cilia . Physical Review E , 82(2), 027302-1-027302-4. [027302]. DOI: 10.1103/PhysRevE.82.027302
Khaderi, S. N., Baltussen, M. G. H. M., Anderson, P. D., Ioan, D., den Toonder, J. M. J., & Onck, P. R.(2009). Nature-inspired microfluidic propulsion using magnetic actuation . Physical Review E , 79(4), 046304-1-046304-4. [046304]. DOI:10.1103/PhysRevE.79.046304
| | |
| --- | --- |
| Last modified: | 29 April 2021 4.50 p.m. |