µMeχ group Nerd
A long time ago, in a small village far, far away, where the university is a humongous bicycle repair shop, for the first time in history, a group of elite scientists chose a spiritual leader. A new tradition was born and since then, machines have evolved, codes have been optimized, dishes from several origins have been professionally devoured and the team has moved to the picturesque flatlands of Groningen.
---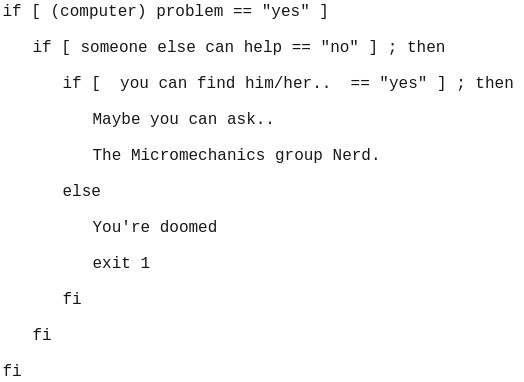 ---
On a very irregular basis the Micromechanics of Materials group selects from amongst itself the most nerdy individual of all and bestows him/her with the honour to call him/herself the µMeχ Nerd of the group. Together with this honorary title comes a beautiful award, the most prestigious µMeχ Nerd glasses.
The Rules:
Despite of what those that are in fear and/or in expectation of becoming the next µMeχ Nerd may be trying to make you believe, there are no rules in this competition!
There is, however, one tradition attached to the contest. That is the good custom that the newly chosen µMeχ Nerd will serve coffee or tea to the less fortunate contestants the day after the election ceremony.
Before his second election at the 14th µMeχ Nerds dinner of the Micromechanics of Materials group in November 2002, Prof. dr. ir. E. van der Giessen had introduced a very new rule at lunch that day:
"The second time µMeχ Nerd should bring homemade cake for the day after the election"
The µMeχ Hall of Fame:
So you want to know who became µMeχ Nerds in the past.
See who got this eternal privilege?
Hereby we present to you, the previous laureates.:
A.C. Steenbrink [March 27 1997]
S. Roggeband [June 26 1997]
M.G.A. Tijssens [October 22 1997]
K.G.W. Pijnenburg [March 18 1998]
B.N. Nguyen [September 3 1998]
H.H.M. Cleveringa [March 12 1999]
E. van der Giessen [July 1 1999]
D.M. Weygand [November 19 1999]
S.M. Schlögl [March 16 2000]
P.R. Onck [August 10 2000]
L.H. Friedman [February 9 2001]
S.Basu [December 9 2001]
S.Brinckmann [>April 16 2002]
E. van der Giessen [November 11 2002]
S.Brinckmann [June 17 2003]
C. Tekoglu [February 12 2004]
A. Widjaja [June 16 2004]
T. van Dillen [March 8 2005]
T. van Dillen [again in 2005]
Liesbeth Huisman [in 2006]
Monica Bulacu [in 2006]
Ratna Annabattula [in 2007]
Can Ayas [in 2007]
Syed Khaderi [in 2008]
Goran Zagar [2008-2009]
Xiaoming Liu [April 27 2009]
Mathieu Solar [November 18 2010]
Siva Saane [September 27 2011]
Hengxu Song [April 9 2013] 7/13 votes!
RP Singh [September 25 2014]
Edwin de Jong [March 10 2016]
Arjan Boerma [November 24 2016]
Henry de Vries [November 16 2017]
Henry de Vries [June 11 2019]
| | |
| --- | --- |
| Last modified: | 14 June 2019 2.50 p.m. |