Jeroen van den Brink is Zernike Chair 2017
Jeroen van den Brink, director at the Leibniz Institute for Solid State and Materials Research in Dresden, has accepted the prestigious Zernike Chair 2017. The Zernike Chair has been established to offer a temporary professor position at the Zernike Institute for Advanced Materials to a world-class scientist in materials science. The aim of the Zernike Chair is to further improve the Institute' s research, teaching, and visibility by intensive exchange with the chair holder.
The 2017 Zernike chair Jeroen van den Brink is a distinguished scientist in the field of theoretical Materials and Nano Science. His research focuses on predicting and exploring fundamentally new electronic and magnetic properties of quantum materials. He is known for his contributions to the field of strongly correlated electron systems, in particular for proposals on magnetic and orbital ordering, mechanisms for multiferroicity and the theory of resonant inelastic x-ray scattering. His research interests further include: Topological States of Matter - Quantum Many Body Physics - Theoretical Photon Science - Quantum Magnetism - Unconventional Superconductivity - Graphene and Van der Waals Materials - Ab Initio Electronic Structure Theory - Curved Nano Membranes.
We are convinced that Prof. van den Brinks interests, quality and experience make him an excellent Zernike Chair and will give rise to many fruitful discussions.
Van den Brink will stay in Groningen between October 26th and December 15th 2017, giving a Master class on "Correlated & Topological Electron Systems" and a public lecture "Materials for a Quantum Computer - between Fact and Fiction". If you wish to schedule a meeting with Prof. van den Brink, please contact the Zernike Institute's Office (Phone 050 36 34843 or mail to j.k.de.boer@rug.nl).
About Jeroen van den Brink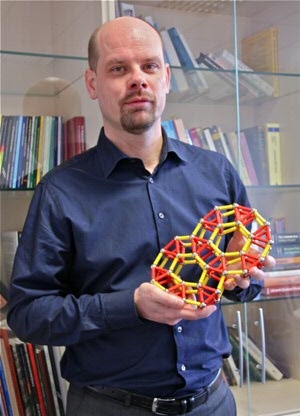 Van den Brink studied physics in Groningen and did his PhD (1997) with Spinoza Laureate and former Zernike Institute director George Sawatzky. He continued his career as postdoc and Humboldt Fellow at the Max-Planck-Institut fü r Festk örperforschung (Stuttgart). In 1999 he became tenured Associate Professor at the University of Twente. In 2002 he moved to Leiden University as Springplank Fellow and from 2005-2013 he was Extraordinary Professor at the Radboud University Nijmegen. Since 2009 he is Professor of Theoretical Condensed Matter Physics at the TU Dresden and Director of the Institute for Theoretical Solid State Physics at the IFW Dresden. Jeroen van den Brink has authored more than 200 publications and has given more than 100 presentations at international conferences and workshops. He was a visiting professor at Stanford University (2009) and Harvard University (2016).
| | |
| --- | --- |
| Last modified: | 22 September 2017 4.04 p.m. |