Conference: Development and Human Security in Papua, Indonesia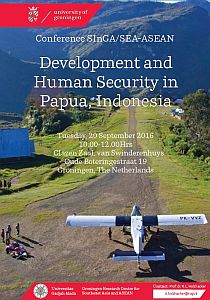 Spirit Indonesia Groningen (SInGA) and The Groningen Research Centre for Southeast Asia and ASEAN (SEA ASEAN) , University of Groningen, the Netherlands.
Glazen Zaal, van Swinderenhuys. Oude Boteringestraat 19, Groningen
Tuesday, September 20, 2016.
Chair: Prof. Ronald Holzhacker, Comparative Multilevel Governance and Regional Structure, Director SEA ASEAN Centre.
10.00 – 10.15 Dr. Hassan Wirajuda – Indonesian Foreign Minister (2001-2009) Opening Remarks
10.15 – 10.45 Dr. Gabriel Lele (Universitas Gadjah Mada, Indonesia – UGM Working Group for Papua) – Human Security on Papua: Achievements and Constraints
10.45 – 11.15 Tri Efriandi (PhD Candidate, Faculty of Spatial Sciences, University of Groningen) – Decentralization & Regional Development: A Case Study of Proliferation in Papua and West Papua
11.15 – 11.45 Petrus K. Farneubun (PhD Candidate, Faculty of Arts, University of Groningen - Lecturer, University of Cendrawasih, Papua) – Health Initiatives and Behavioral Change in Papua: Encouraging Condom Use in the Fight Against HIV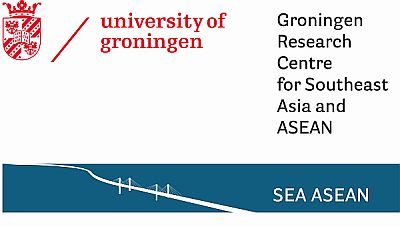 11.45 – 12.00 Discussion
12.00-13.30 Indonesian Lunch served in the Cafe
| | |
| --- | --- |
| Last modified: | 25 February 2020 1.36 p.m. |