The Horst Gerson Lectures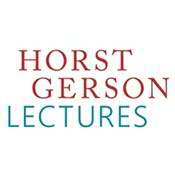 Over the past thirty-five years the University of Groningen has established a noteworthy tradition. Every second year a prominent art historian, most often a scholar from abroad, comes to Groningen to present the Horst Gerson Lecture. An invitation to deliver the Horst Gerson Lecture has become a recognized distinction in the international art-historical world.

The initiative to hold a series of lectures in honor of Horst Gerson (1907-1978) was taken by Professor Henk van Os when he was head of the department of art history in Groningen as Gerson's successor. The main objective of the Horst Gerson Lectures is to perpetuate the memory of a well-loved, inspiring art historian who after his young years in Berlin and maturity in The Hague rounded off his distinguished career as a professor of art history in Groningen. The Horst Gerson Lectures Foundation does this by holding innovative public lectures by leading practitioners of Gerson's discipline. The lectures are formal university events under the aegis of the dean of the Faculty of Arts.

The speakers are asked to deliver lectures on their own current research, in a form that opens new perspectives for colleagues but can be followed by a general audience as well. The policy to invite foreign art historians to hold the Horst Gerson Lecture is in the spirit of the way that Gerson himself drew on his extensive international network to bring guest speakers to the Netherlands.

The first Horst Gerson Lecture was delivered in 1981 by Horst W. Janson. Later editions of the Lecture were given by David Freedberg, Linda Nochlin, Phillip Fehl and Alexander Nagel. All of the lectures have been published individually in attractive, illustrated booklets that have become collector's items.
The Twenty-first Horst Gerson Lecture
We are delighted to announce that on the 12th of October 2023 Prof. em. Dr. Monika Wagner (Department of Art History, Hamburg University) will deliver the next Horst Gerson Lecture entitled On the Afterlife of Things in Artworks. For more information click here.
The board of the Horst Gerson Lectures Foundation
| | |
| --- | --- |
| Last modified: | 07 September 2023 10.56 a.m. |