Stranger Things: Defamiliarization in the Time of COVID-19
In 1917, literary theorist Viktor Shklovsky stated that the main purpose of art is defamiliarization -- that is, to make us see things from a radically new perspective, as if we were experiencing them for the first time. However, this kind of estrangement is clearly not exclusive to the arts; societal and political crises can produce even more radical disruptions in our everyday habits and thought patterns. In this video lecture, we will use the concept of defamiliarization to better understand the cultural effects of the COVID-19 crisis. To what extent is the virus changing our habitual perspective on reality? And how can cultural products (from literature to memes) help us cope with a reality that defies our ordinary ways of thinking?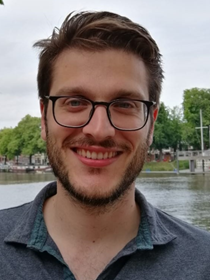 Dr Alberto Godioli
Alberto Godioli is Senior Lecturer in European Literature and Culture at Faculty of Arts, and Programme Director of the Netherlands Research School for Literary Studies (OSL). He obtained his PhD in 2012 from the Scuola Normale Superiore of Pisa; from 2013 to 2015 he was a Newton International Fellow at the University of Edinburgh. His research mostly focuses on humor and satire across media, with particular but not exclusive attention to literature. Alberto is currently developing a project on legal controversies regarding dark humor. Since January 2020, he is the Principal Investigator of the NETIAS Constructive Advanced Thinking project 'Cartoons in Court: Towards a Forensic Analysis of Visual Humor'.
| | |
| --- | --- |
| Last modified: | 11 May 2020 3.33 p.m. |