Neurolinguistics and Linguistic Disorders
SemCogLab & Healthy Ageing
The Semantics and Cognition Lab (SemCogLab) studies patterns of meaning and interpretation in language, whether and how cognitive processes influence the linguistic capacity to understand others, and how this linguistic capacity to understand others typically develops in children or can become impaired. To investigate this question, both behavioral and online research methods are used, such as reaction time experiments, EEG, eye-tracking, and pupillometry.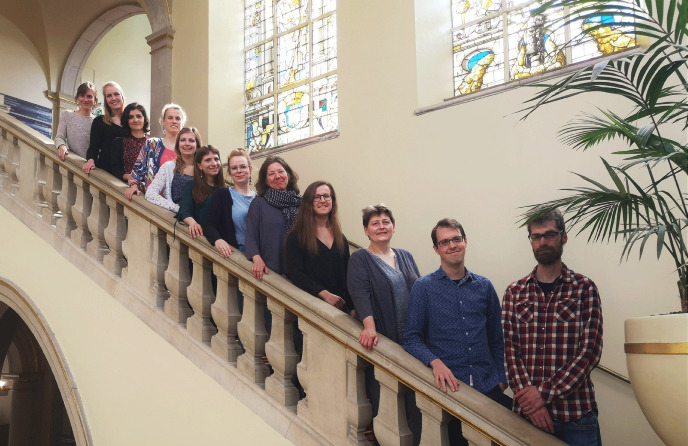 Researchers
PhD Projects
The SemCogLab has several other projects on language development across the lifespan. Our group is highly interdisciplinary, with more than half of the PhD projects spanning different faculties: Philosophy, Medical Sciences (Psychiatry, Audiology), Science and Engineering (Artificial Intelligence), and Behavioural and Social Sciences (Orthopedagogy). Associated PhD students receiving supervision from the Semantics and Cognition group are Merel Semeijn (Faculty of Philosophy) and Abby Toth (Faculty of Science and Engineering).
Apraxia of Speech - Diagnosis and Therapy
Apraxia of Speech (AoS) is a speech motor disorder that in general results from vascular brain damage. Within this project headed by Roel Jonkers , the diagnostic instrument for Apraxia of Speech (DIAS) was developed (Feiken and Jonkers, 2012). Afterwards , Judith Feiken has been developing a therapy programme, the Therapeutic Instument for Apraxia of Speech, which was published as part of the Speech Therapy app (STAPP). Joost Hurkmans has evaluated the therapy programme SMTA on its effeciveness. In 2020, the Norwegean addaptation of the DIAS, Diagnostisk verktøy for taleapraksi, was published.
Researchers
| | |
| --- | --- |
| Last modified: | 06 January 2023 3.10 p.m. |