News and events
Upcoming Workshops Health and Humanities network ENLIGHT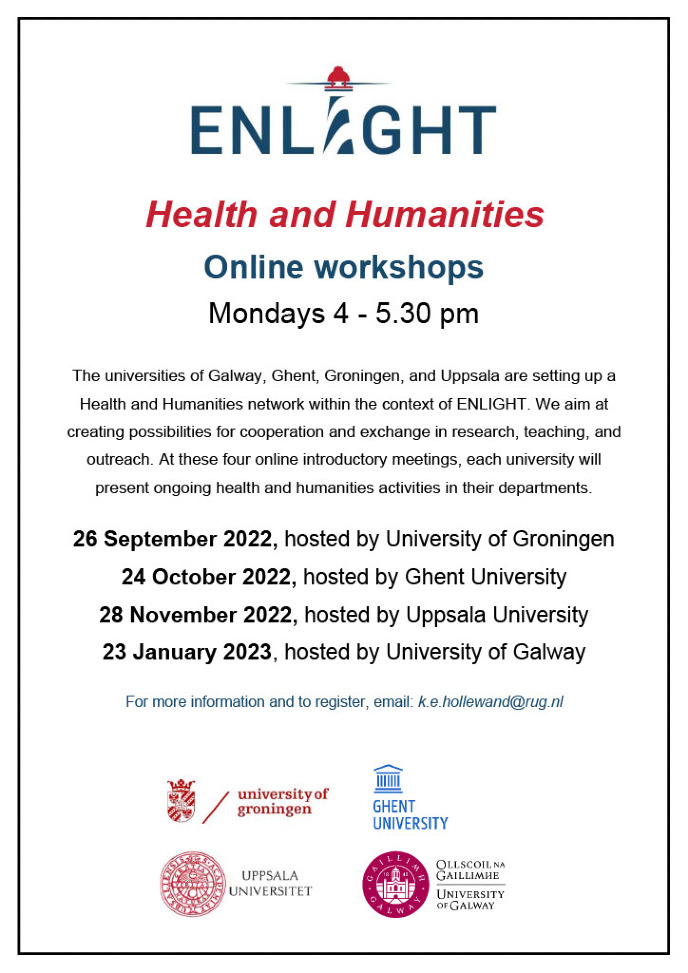 New Webinar Series on (IN)FERTILITY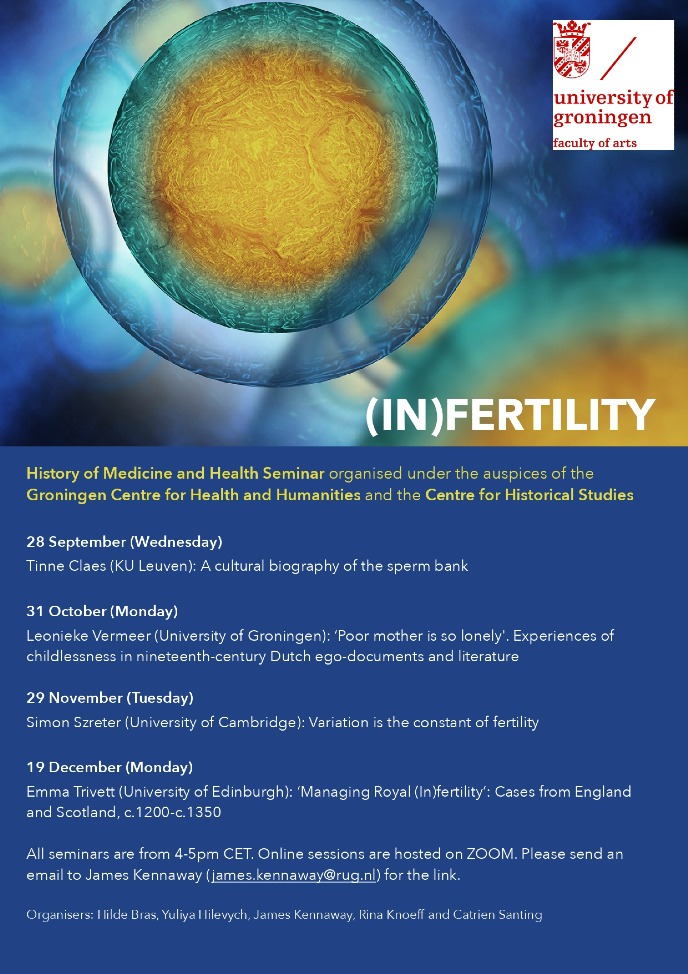 Poverty, pathology, and pills. Responding to mental distress in times of austerity - Felicity Thomas
'Poverty and Health Inequalities' Webinar Series Spring 2022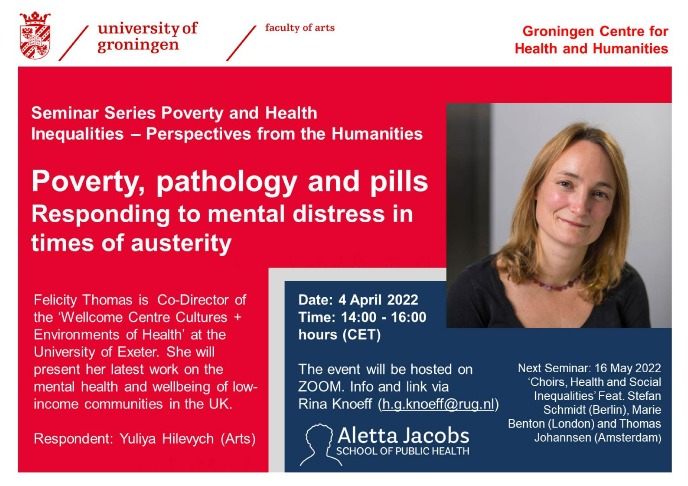 Using knowledge to address health inequities. Towards dignity-based practices - Seye Abimbola
'Poverty and Health Inequalities' Webinar Series Spring 2022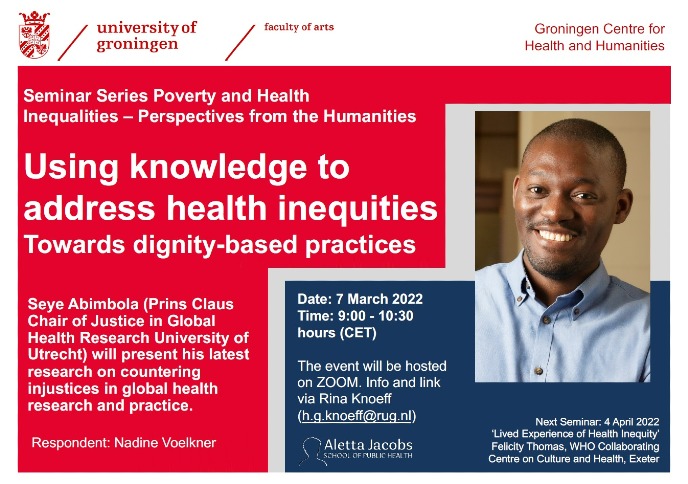 Build Back Fairer - Michael Marmot
'Poverty and Health Inequalities' Webinar Series Spring 2022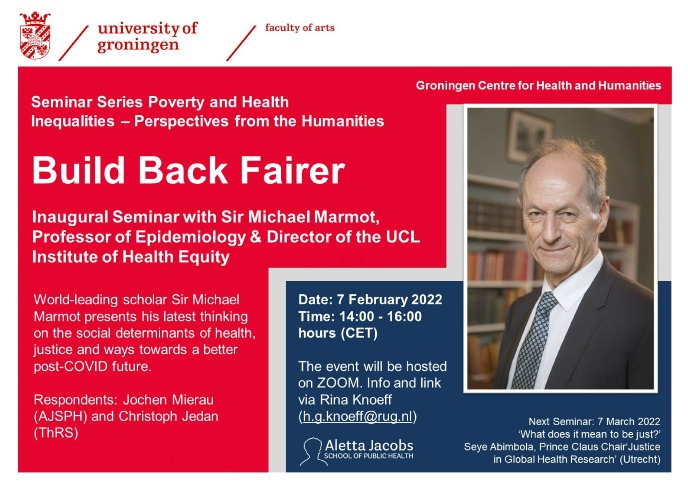 Lifecycles Seminar Series Autumn 2021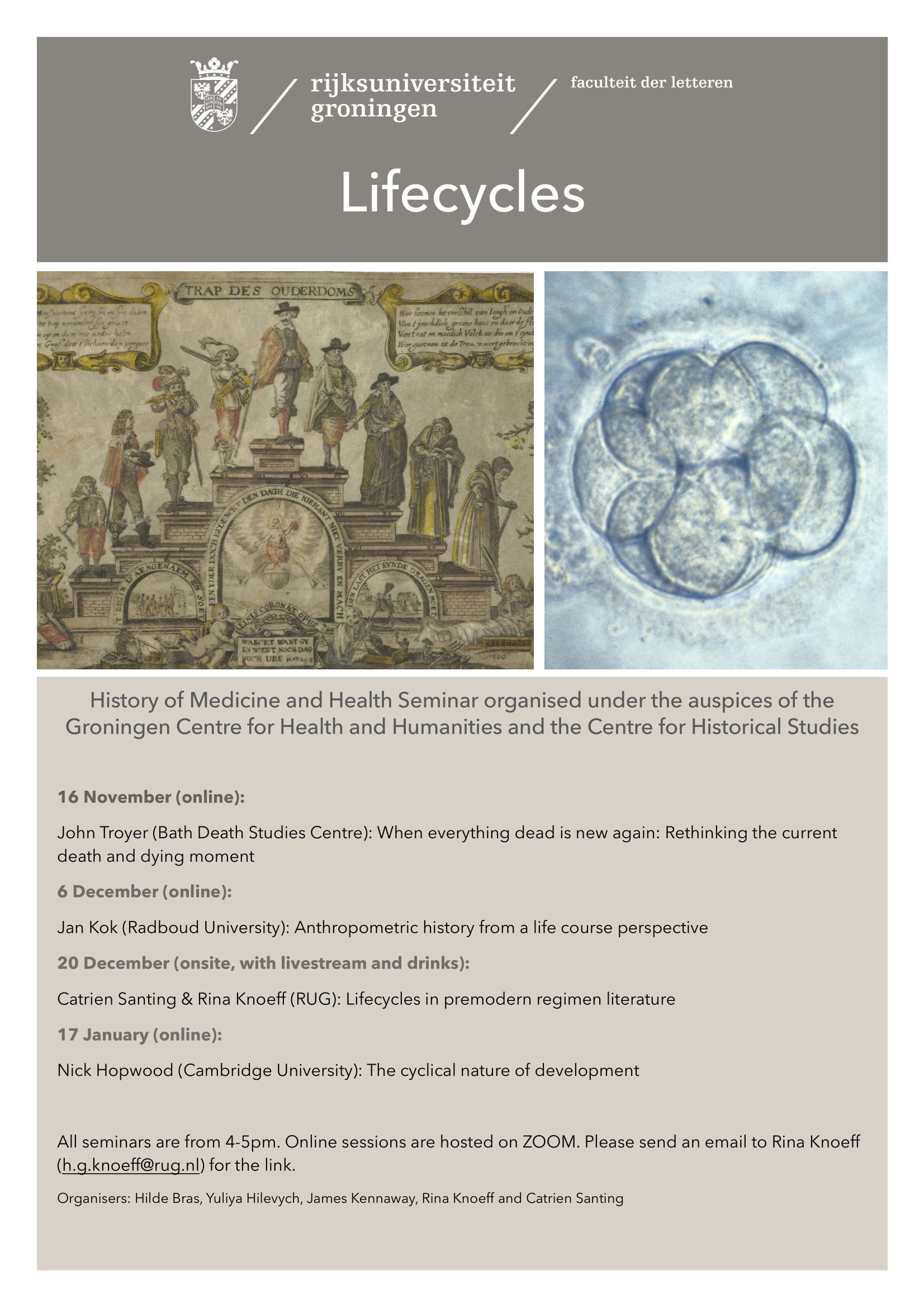 University Minor 'More Healthy Years'
Start registration: 19 May 2021
Start of the Minor: September 2021
Course load: 30 ECTS
Student capacity: 30
This 30 ECTS interdisciplinary minor offers an introduction to contemporary issues in the field of (global) public health. You will learn about the public health challenges societies face, public health systems, stakeholders and the different perspectives for intervention including history, politics, art, religion, law, economics, psychology, biomedical and public health. As part of the minor, teams of students will be set very localized public health challenges in and around Groningen formulated by local councils etc for which practical solutions must be found.
The Minor is coordinated by the UMCG but involves professors and students from seven faculties (Medical Sciences, Law, Behavioural and Social Sciences, Arts, Theorlogy and Religious Studies).
It is advised to enrol early, given the limited number of places available for the Minor.
Health, Humanities and the Lab
Webinar Series Spring 2021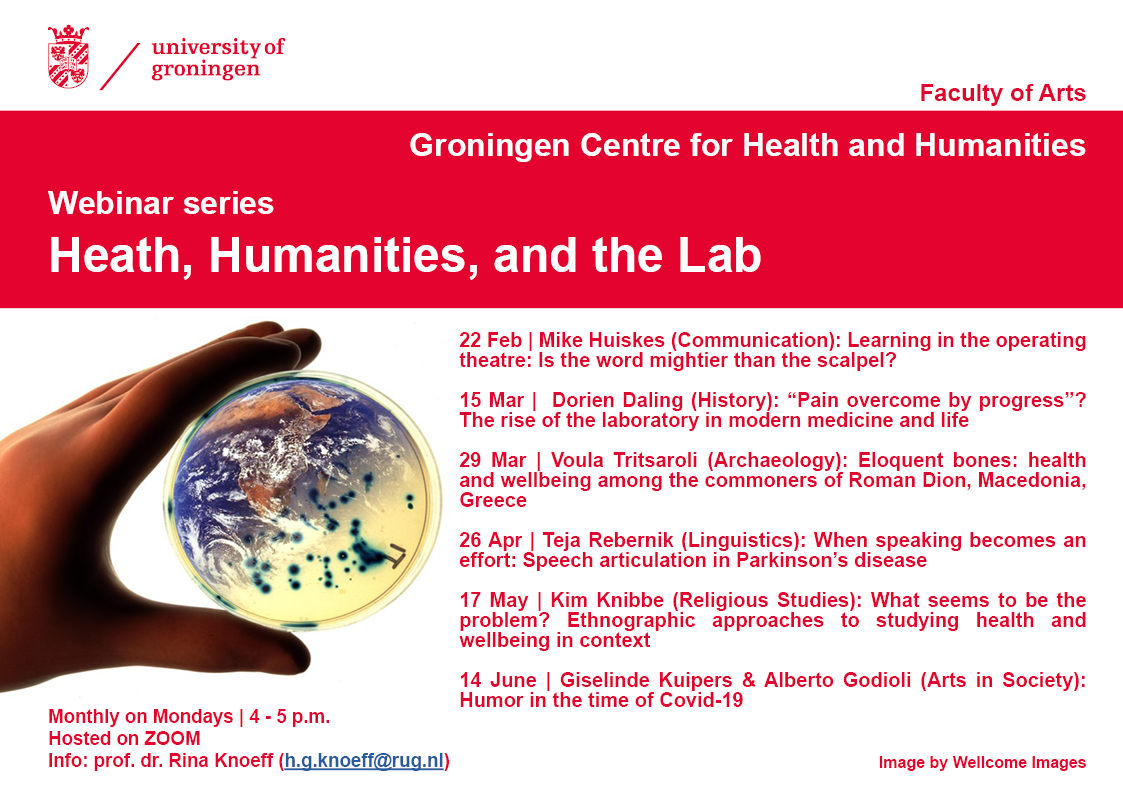 Covid-19: What can the Humanities do?
Webinar Series Autumn 2020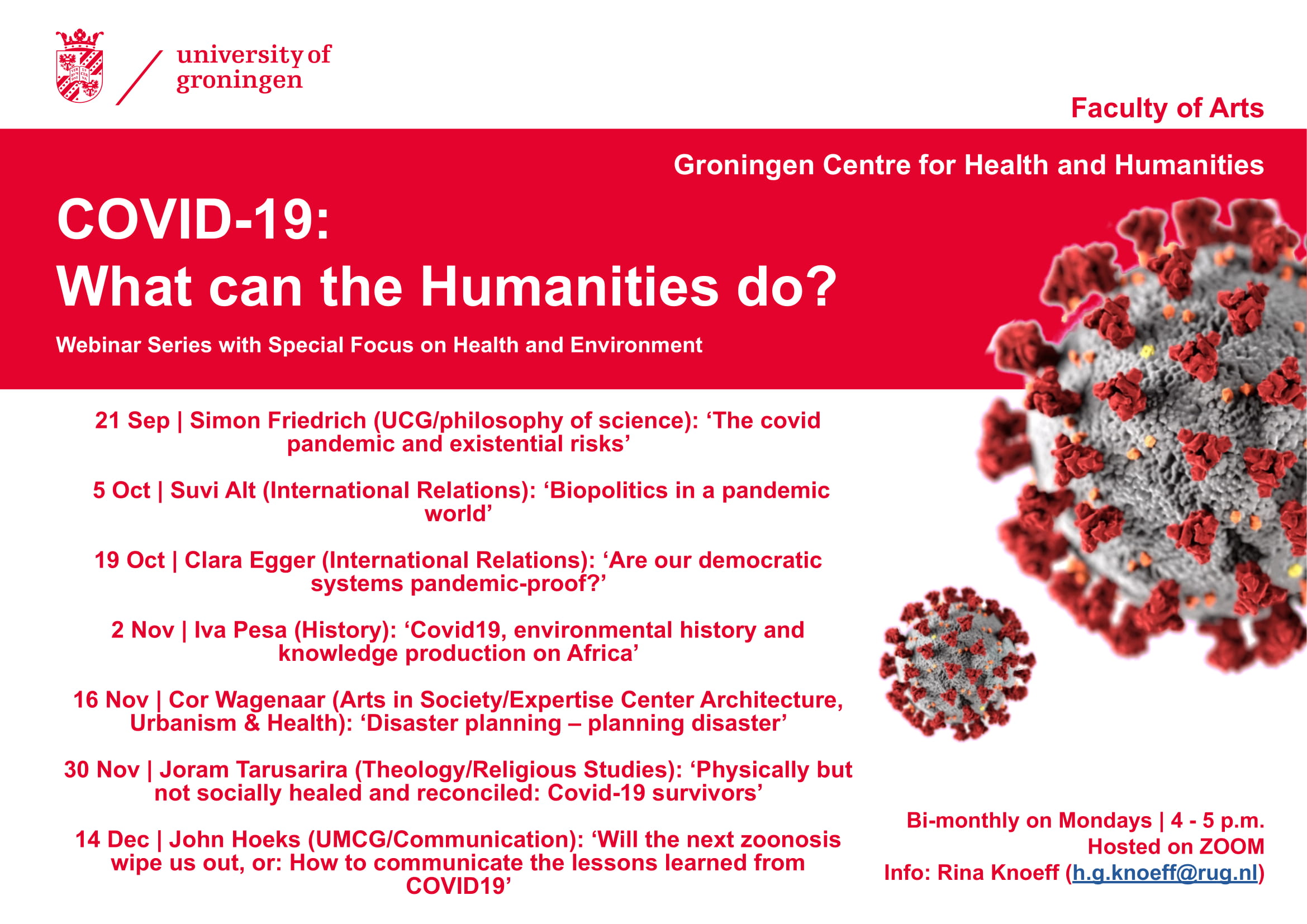 COVID-19: What can the Humanities do?
Webinar Series Spring 2020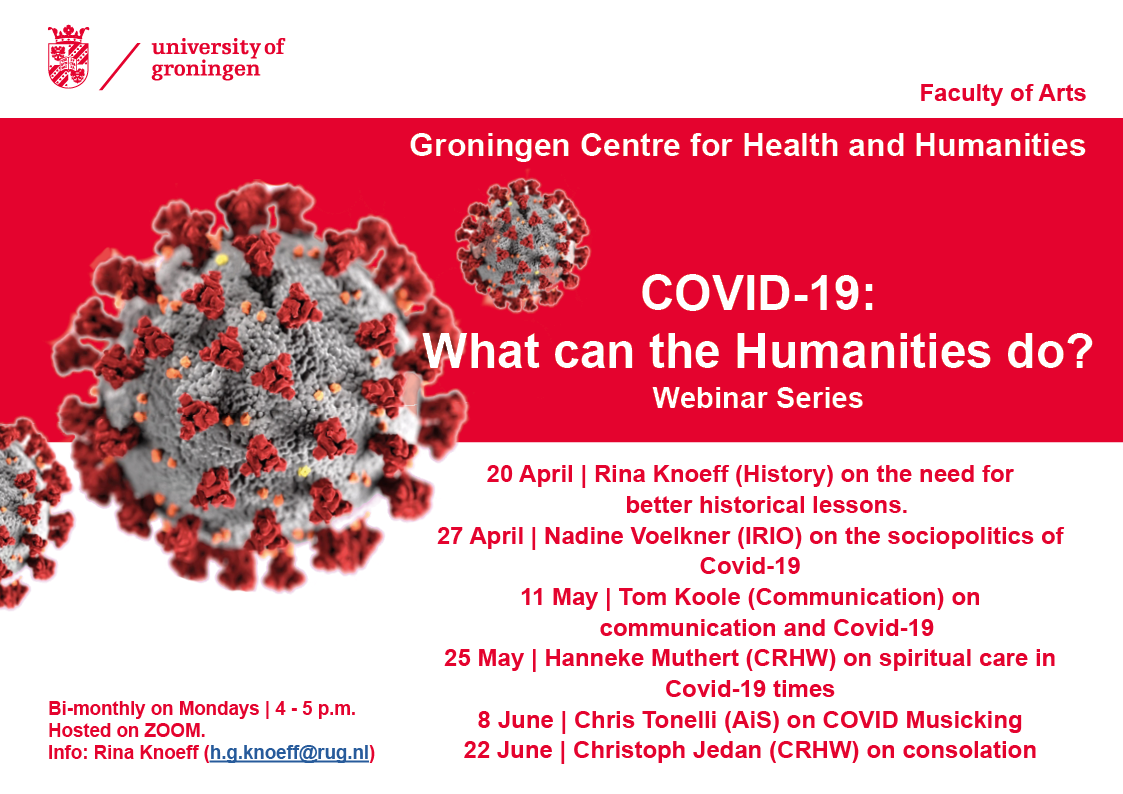 Research Afternoon Painting as Medicine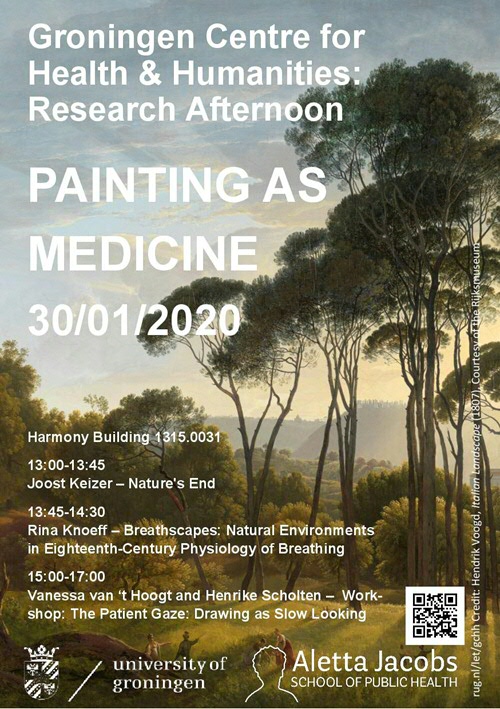 Junior Research Meet-up
Date: 30 January 2020, 09:00 - 16:30
Venue: Duisenberg Building, Zernike, Groningen
On behalf of the Aletta Talent Network we kindly invite Master students, PhD candidates or postdoc fellows to the second Junior Research Meet-up and its exciting program. The Aletta Talent Network is the young arm of the Aletta Jacobs School of Public Health. As such, the aim of the Junior Research Meet-up is to bring together young researchers from different fields to share their research themes, to exchange ideas, to receive feedback, and to grow the network of each participant. Program:
Dutch Global Health Film Festival
Date: 8 February 2020, starts at 14:00
Venue: Puddingfabriek, Groningen
Tickets: available now!
On behalf of the Dutch Association of Tropical Medicine and International Health (NVTG), we are delighted to invite you to the second edition of the Dutch Global Health Film Festival (DGHFF). The film festival aims to bring people together around issues in global health through film and dialogue. There will be 3 films shown about emerging issues in Global Health, followed by a panel discussion.


'2040' A film about Climate Change from director Damon Gameau, comes an aspirational journey to discover what the future could look like if we simply embraced the best that exists today. See trailer
'La Maladie du Demon (The Demon Disease)' A film about the founding of a local aid organization for mental illness and epilepsy patients in West Africa, who are often cast out from their society due to their condition. See trailer
'El susto (The Shock)' Mexico's Number One Killer is not cartels. It is Type 2 Diabetes. El Susto tells the story of how courageous public health activists in Mexico stirred the powerful beverage industry when they took action to curb sugary drink consumption. See trailer
Dinner is included and you are very welcome to bring your partner and friends.

We are looking forward to seeing you there.



| | |
| --- | --- |
| Last modified: | 02 November 2022 3.29 p.m. |