Pharmaceutical Analysis
Headed by Prof. Sabeth Verpoorte
The Pharmaceutical Analysis group, headed by Prof. Sabeth Verpoorte, constitutes an essential part of Groningen Research Institute of Pharmacy, maintaining not only an established knowledge base of modern, proven analytical methodologies, but also striving to develop completely new principles of analysis and detection.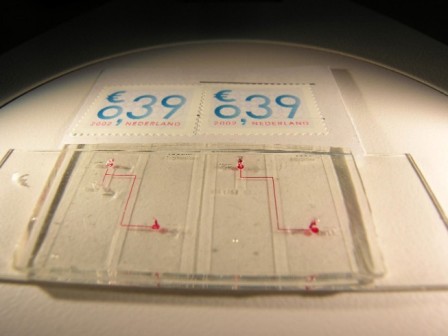 The group continues to focus on the development of analytical applications in the pharmaceutical sciences using new combinations of established instrumentation and approaches. The integration of sample pretreatment and analysis into single systems has been of particular interest, as has the coupling of various analysis techniques with mass spectrometric detection.
In the area of fundamental analytical development, a new lab-on-a-chip line of research focusing on the combination of state-of-the-art microtechnologies with biology and biochemistry was started in the spring of 2003. This branch of modern chemistry, also known as microfluidics , involves the application of microtechnologies to chemical processing and control on a very small scale. Networks of hair-fine channels formed in planar glass, silicon, or plastic surfaces are the essential tools used. The sub- m L liquid handling which is made possible by this technology is revolutionary, and will lead to new tools for the pharmaceutical sciences and the life sciences in general. Lab facilities for the realization of microfluidic devices and applications for the pharmaceutical sciences are under development, with the first devices realized in poly(dimethylsiloxane) in May of 2004.
The research of the Pharmaceutical Analysis Group is incorporated in the GUIDE Division Medicinal Chemistry and Bioanalysis. More information about this division can be found in our flyer.
| | |
| --- | --- |
| Last modified: | 04 May 2022 11.59 a.m. |