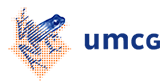 Section: Metabolic Diseases
Welkom op de website van het laboratorium Metabole Ziekten van het UMCG
Erfelijke metabole ziekten of stofwisselingsziekten zijn een grote groep aandoeningen met een defect in het metabolisme. Deze ziektebeelden zijn individueel zeldzaam en hoewel een aantal aandoeningen tegenwoordig te behandelen is, zijn veel aandoeningen dat helaas nog niet. Erfelijke metabole ziekten worden vaak vastgesteld op de kinderleeftijd, echter ook bij volwassenen worden in toenemende mate erfelijke metabole ziekten gediagnosticeerd.
Een gering aantal erfelijke metabole ziekten wordt tegenwoordig gediagnosticeerd bij pasgeborenen middels de hielprikscreening. ( https://www.rivm.nl/hielprik). De diagnostiek en de behandeling van deze ziekten vergen een gezamenlijke inspanning van de kliniek en het laboratorium. Beide zijn vertegenwoordigd in de werkgroep Metabole Ziekten. In het team Metabole Ziekten participeren de volgende disciplines: (kinder)artsen, diëtisten, laboratoriumspecialisten en analisten, verpleegkundigen, medisch maatschappelijk werk en de dienst educatieve voorziening.
Organisatie
Het laboratorium Metabole Ziekten valt onder de sector klinische chemie van de afdeling laboratoriumgeneeskunde van het UMCG.
Het laboratorium Metabole Ziekten is per 1 december 2017 ISO15189 geaccrediteerd. (Raad van Accreditatie M 078)
Het laboratorium kent twee disciplines, te weten basisdiagnostiek (verkennend metaboliet onderzoek) en enzymdiagnostiek (bepaling van de activiteit van kandidaat enzymen).
Er is een nauwe samenwerking met de sectie Genoomdiagnostiek van de afdeling Klinische Genetica. Het laboratorium werkt tevens samen met de research laboratoria van de afdeling Kindergeneeskunde, de research sector Human Nutrition and Health van de afdeling laboratoriumgeneeskunde, het interfacultair centrum voor massaspectrometrie (RuG/UMCG) en de Medische Biologie (afdeling Pathologie en Medische Biologie UMCG).
Links
Beatrix Kinderkliniek -Metabole ziekten
| | |
| --- | --- |
| Laatst gewijzigd: | 17 augustus 2020 10:05 |