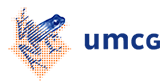 Department of Otorhinolaryngology

The mission of the Department of Ear, Nose and Throat / Head & Neck Surgery at the University Medical Center Groningen is
Accessible Innovative Care

"Accessible Innovative Care" is the vision of the Department of Ear, Nose and Throat and includes innovative scientific research about conditions of the throat, nose and ear. The two main lines of research focus on head and neck oncology and audiology but also include studies in laryngology and rhinology. All research within the ENT department focuses on Healthy Aging.
The research of head and neck cancer is led by Prof. B.F.A.M. van der Laan, PI and ENT specialist. This research is embedded in DARE (Damage and Repair in Cancer Development and Cancer Treatment). This research encompasses three lines:
(1) molecular biological research on radio sensitivity of the laryngeal cancer under the guidance of prof. B.F.A.M. van der Laan.
(2) the effect of age on the treatment of elderly patients with squamous cell carcinoma of the head and neck under the guidance of dr. G.B. Halmos, PI and ENT specialist.
(3) genomic instability analysis of druggable targets in head and neck cancer led by Dr. B.E.C. Plaat, ENT specialist.

Audiological research is embedded in BCN-Brain (Research School of Behavioural and Cognitive Neurosciences) and also part of PCN (Perceptual and Cognitive Neurosciences), one of the research programs of BCN. There are three main lines of research:
(1) tinnitus research and research into inner mechanics under the guidance of prof. P. van Dijk, PI and medical physicist-audiologist
(2) speech perception research under the guidance of prof. D. Baskent, PI and biomedical engineer
(3) fundamental molecular biological research of the inner ear under the leadership of dr. S. Pyott, PI and biologist. The lines of research focus on research into the functioning of normal hearing and hearing loss, the most common sensory disability.

Rhinology research is led by dr. R.A. Feijen and dr. A.G.W. Korsten-Meijer, both ENT specialists. The research is embedded in GUIDE (Groningen University Institute for Drug Exploration) and GUTS (Guided Treatment in optimal Selected cancer patients - Translational and Clinical research in Oncology.
In order to succeed on the mission Accessible Innovative Care we are continuously focusing on innovating medical care. In our research program "Communication systems: Hearing and Speaking", we bundle the efforts of scientists and clinicians. They collaborate closely on a range of fundamental and clinical projects. The menu on the left directs you to these projects.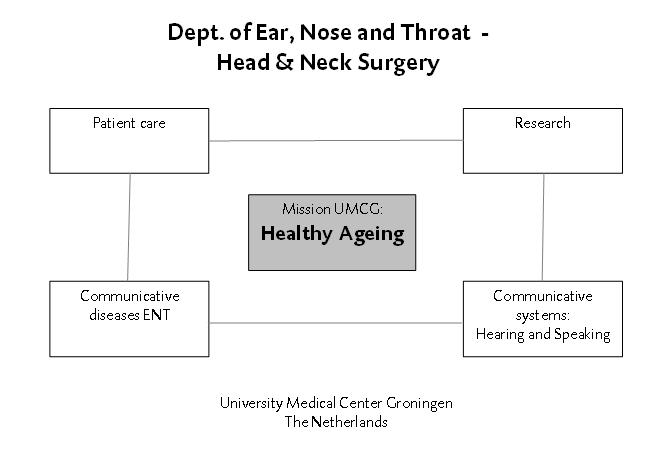 | | |
| --- | --- |
| Last modified: | 07 February 2023 12.14 p.m. |