Tissue repair in COPD
Towards regenerative pharmacology for the lung
Investigators involved: Reinoud Gosens, John-Poul Ng-Blichfeldt, Anita Spanjer, Eline van Dijk, Xinhui Wu, Loes Kistemaker, Tim Koopmans, Hoeke Baarsma
Chronic obstructive pulmonary disease (COPD) is one of the most common lung diseases in the world, characterized by a progressive loss of lung function with airflow obstruction that is not fully reversible. The key problem underlying COPD is defective tissue repair, causing bronchitis, small airways remodelling and emphysema. As current therapies do not modify the course of the disease in COPD, new therapies need to be developed. The main goal of this project is to find a therapeutic pharmacological principle to restore tissue repair in early COPD. The pharmacological approach makes sense as it can be applied on a relatively large scale and used to halt the disease process resulting in real disease-modifying treatment. The major hurdle that obstructs the possibility to do so, however, is the immense lack of knowledge on the regulatory mechanisms that impair tissue repair in COPD. We believe that it should be feasible to reactivate endogenous repair mechanisms using pharmacological means.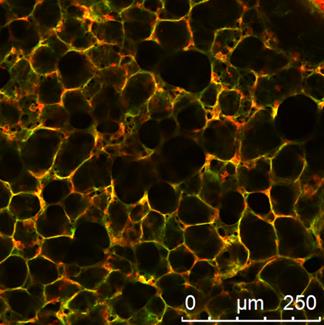 Our research focuses on the WNT signalling pathway as a therapeutic strategy to achieve tissue repair in COPD. The WNT pathway is key to stem and progenitor cell renewal and clear indications of its dysregulation in COPD exist. We propose that the pathological mechanisms that impair adequate WNT-mediated repair in COPD provide rational molecular targets for drug design. Our research is aimed at identifying how WNT signalling mediates repair and investigate why WNT mediated repair is not adequate in COPD. With these data, we will establish molecular targets for drug design and develop small molecule antagonists of these targets. The integrative, transdisciplinary approach adopted in this project, using molecular genomics, functional studies of tissue repair, and drug discovery platforms, will characterize the spatiotemporal regulation of specific WNT ligands and their role in tissue repair in response to COPD-relevant pathophysiological stimuli.
Relevant literature:
A pro-inflammatory role for the Frizzled-8 receptor in chronic bronchitis. Spanjer AI, Menzen MH, Dijkstra AE, van den Berge M, Boezen HM, Nickle DC, Sin DD, Bossé Y, Brandsma CA, Timens W, Postma DS, Meurs H, Heijink IH, Gosens R.

Thorax. 2016 71(4):312-322.

Regulation of actin dynamics by WNT-5A: implications for human airway smooth muscle contraction. Koopmans T, Kumawat K, Halayko AJ, Gosens R.

Sci Rep. 2016 Jul 29;6:30676.

Activation of WNT/β-catenin signaling in pulmonary fibroblasts by TGF-β

₁

is increased in chronic obstructive pulmonary disease.

Baarsma HA, Spanjer AI, Haitsma G, Engelbertink LH, Meurs H, Jonker MR, Timens W, Postma DS, Kerstjens HA, Gosens R.

PLoS One. 2011;6(9):e25450.
| | |
| --- | --- |
| Last modified: | 08 March 2017 11.38 a.m. |