Optimization of membrane protein production
Optimization of membrane protein production (Prof. Dr. B. Poolman, Prof. Dr. D.J. Slotboom)
Optimization of gene expression and identification of bottlenecks in protein production. Lactococcus lactis and Escherichia coli are used as hosts for the overexpression of membrane proteins.1,2 A high-throughput method for cloning in E.coli and L. lactis is available. Expression screening by GFP-tagging of proteins is shown in the picture.
Hydrodynamic analysis of proteins: analytical ultracentrifugation and multi-angle light scattering-coupled to size-exclusion chromatography are used to determine oligomeric state and monodispersity of membrane proteins.
Crystallography: in collaboration with the group of Andy-Mark Thunnissen and Bauke Dijkstra, X-ray crystallography is used to determine high-resolution structures of membrane proteins.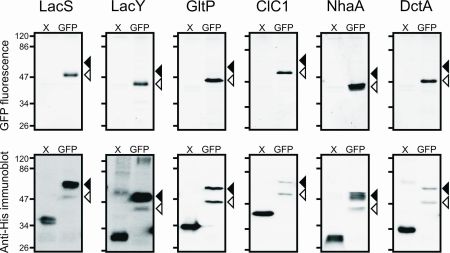 Kunji, E.R.S., Slotboom, D.-J., and Poolman, B. (2003) Lactococcus lactis as host for overproduction of functional membrane proteins. Biochim. Biophys. Acta, 1610, 97-108.
Geertsma, E.R., and Poolman, B. (2007) High-throughput cloning and expression in recalcitrant bacteria. Nature Meth., 4, 705-707.
| | |
| --- | --- |
| Last modified: | 03 October 2012 12.04 p.m. |