Introduction
Goal
The aim of the Science, Business & Policy programme is to train you to become a 'science advisor': a broadly educated beta scientist who can build bridges within companies and policy organisations and also between science research, corporate strategy and policy.
After the programme, you can independently advise on innovation projects or create policy designs which are not only compelling but are also feasible, and you can count on support within and outside your organisation.
---
Science, Business & Policy
The training provides the familiar beta profile:
You are at home in your own science discipline

You can conduct independent science research

You can unlock and analyse scientific knowledge
SBP will give you a definite plus:
You learn to think from the perspective of an organisation

You get in touch with policy and business strategy

You get a view of the social context of research

You are trained to work with people from different fields

You learn to deal adequately with limited time, information and resources
---
Characteristics of the Science, Business & Policy master track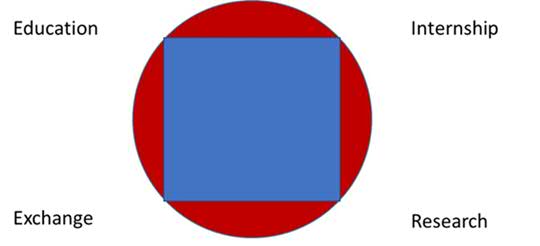 Work placement outside the university
After an intense immersion in the business and policy sciences at the university, you will do a six-month work placement as a scientific advisor at a company or government agency. You will find your own advisory assignment, which you will turn into a success. The scientific quality will be assured by a beta lecturer, and in the workplace, you will have a coach who guides you. You will write tailored advice in which you combine your science knowledge with your policy and business knowledge.
Exchange knowledge effectively
Science is a profession of hard numbers and objective truths. But in the world of business and policy, you need more than data to be proven right. The human factor is important; the right knowledge must reach the right people. In SBP, you learn to communicate strategically and draw attention to your ideas, enabling the organisation using them. You also learn to organise your work on a project basis.
Broaden your horizon
After graduation, three out of four master's students find a job outside the university. These graduates create useful knowledge and bring useful skills to an organisation. In this course, you will discover how you can do this. You will learn to assess a company culture. You will also learn to work together with others effectively. The SBP programme offers you the tools to function as a professional in business or policy organisations.
Keep doing research
For people who do not want to work in business or policy settings, SBP is also a useful master track. The management skills you learn in this course can also be used during PhD research at the university. While studying the SBP subjects, you get an eye for knowledge utilisation, which is becoming increasingly important in applying for research funds. About 20–25% of former SBP students become PhD graduates.
| | |
| --- | --- |
| Last modified: | 28 March 2023 4.15 p.m. |