Science, Business & Policy
Are you starting your master's degree programme next year, and would you like to focus on the business or policy side of science? You can combine most master's programmes of our faculty with the Science, Business & Policy track. During this track, you will be offered all the right tools to function as a professional in business or policy organisations, including a six-month work placement as a scientific advisor. The SBP-track has been proven to give students a head start in their careers; most students are offered a job by their work placement organisation, right after graduating.
Companies and government organisations like to make their decisions based on scientific knowledge. But how can science be translated to entrepreneurs and policymakers? Often they use other language and terminology. In the SBP-track, you will learn how to bridge the worlds of science, business and policy.
You will learn to implement your science knowledge in companies and policy organisations. This is not only important for students who aspire an entrepreneurial business career, but also for all those researchers who wish to work within or collaborate with industry or governmental institutions. In practice, the SBP-track prepares for the professional career of the majority of master's students.
The subjects are endless. Think of combating bioterrorism, continuing or stopping gas extraction, developing policy for employees who often need to run night shifts, calculating the best options for wind turbines, etc. After finishing your master's programme, you become ready for a career in Business, Policy or Science by becoming a science adviser, an entrepreneur, a policy advisor, a researcher or a PhD.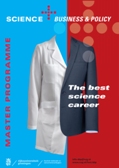 ---
Summary of the track:
Name: Science, Business & Policy master track (SBP-track)
Track is offered by: the following teaching group, with guest lecturers
Language: English (except specific Dutch projects)
Title: I n addition to your MSc title, you will also receive a notification on your diploma supplement stating that you have met the requirements of the SBP-track.
Duration: 1 year, within the master's programme of your choice.
ECTS: 60 ECTS total - Introducion Science & Business module 10 ECTS, Introduction Science & Policy module 10 ECTS and Work Placement 40 ECTS
Students per year: 100 max.
Enrolment : Registration for SBP study elements (two courses and work placement) will start on the evening of 31 March/1 April, at 0:00 hr (via Progress). Until 14 April, second-year master's students planning to follow the full SBP-track (courses plus work placement) will have priority over students planning only to take the courses; after this date, the order of registration will determine priority. Anyone who registers before 14 April will know around 20 April whether he/she will be admitted to SBP.
Work placement abroad : Work placement abroad usually will take you more time and effort to organise, but it is certainly encouraged!
For all questions and comments on the SBP-track, you may always send an email to info-sbp rug.nl .
The SBP master track is powered by the Science and Society Group at the Faculty of Science and Engineering.
| | |
| --- | --- |
| Last modified: | 06 May 2021 3.18 p.m. |