Bioarchaeology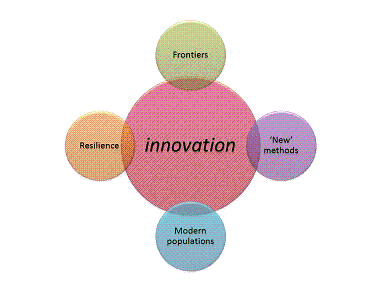 Introduction
The GIA has three main research foci within the field of Bioarchaeology: Archaezoology, Archaeobotany, Human Osteology, and Residue analysis. More information coming soon!
About Archaeozoology
The research and teaching activities of the GIA archaeozoology unit are organized in four clusters around the central theme of innovation for the period 2014-2018.
The first cluster explores frontiers in order to shed light on the mechanisms that enabled human groups to disperse into new territories.
The second cluster builds on the first and seeks to explain the resilience of human communities in dynamic and increasingly anthropogenic landscapes. Resilience is seen from multiple angles in a multispecies archaeology context.
The third cluster encompasses the methodological basis for the first two clusters and aims at developing 'new' methods to test existing and new hypotheses.
The fourth cluster involves extending 'new' methods on modern populations, represented by one of GIA's treasure chests, the zoological reference collection, in order to address issues raised by the first two clusters.
In this scheme, undergraduate and graduate students have the opportunity to follow diverse research training paths.
The unit takes its strength from decades of GIA experience, active intra-departmental collaboration, and international connectivity.
About Residue analysis
Information about Residue analysis at the GIA is coming soon!
Researchers
| NAME AND PROFESSIONAL PROFILE | RESEARCH GROUP |
| --- | --- |
| | |
| | |
| | |
| | |
| | |
| --- | --- |
| Last modified: | 09 November 2023 2.36 p.m. |