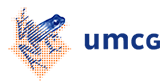 Graduate School of Medical Sciences
Connect with us during Master's Week!
Join us on November 23-24 and December 6, and connect with teachers, students and alumni. There will be a mix of in-person and online sessions. Check the full programme. Secure your spot now!
Questions? Reach out to us at gsms umcg.nl.
Let's shape the future of healthcare together!
About the GSMS
The Graduate School of Medical Sciences (GSMS) is the largest Graduate School of the University of Groningen. The GSMS is responsible for the selective masters and PhD education programmes within the University Medical Center Groningen (UMCG).
Research within the UMCG ranges from fundamental to patient-oriented (clinical) research. The programmes available cover a wide range of research fields and are aimed towards students with a background in areas including biology, biochemistry, biomedicine, healthy ageing, healthcare, medicine, pharmacy, psychology and human movement sciences.