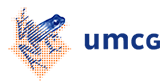 Graduate School of Medical Sciences
The Graduate School of Medical Sciences (GSMS) is the largest Graduate School of the University of Groningen. The GSMS is responsible for all Research Master and PhD education programmes within the University Medical Center Groningen (UMCG). The programs available cover a wide range of research fields and are aimed towards students with a background in areas including biology, biochemistry, biomedicine, medicine, pharmacy, psychology and human movement sciences.
Do you have any questions for us? Contact us at gsms@rug.nl.