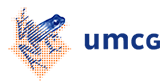 Helga Westers, PhD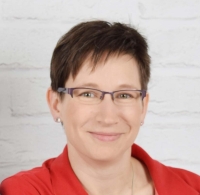 Study: Molecular Biology at the University of Groningen, graduated cum laude.
PhD thesis: Genome engineering and protein secretion stress in the BACELL factory, 2004, Pharmaceutical Biology Department, University of Groningen.
Personal key words: Perfectionist, optimist, humorous, honest, team player
Email: H.Westers@umcg.nl
I am the teaching coordinator for the Genetics department and head our Educational committee. I am involved in teaching Genetics in several Bachelor and Master courses in Biology, Life Science and Technology, and Medicine. I am passionate about developing new educational tasks and courses. In September 2016 I will start on gaining a Senior Teaching Diploma (Senior Kwalificatie Onderwijs (SKO)).
Interesting links:
http://www.rug.nl/umcg/education/medicine/g2020-concept/learning-communities
https://www.rug.nl/ocasys/rug/vak/show?code=WLB07014
https://www.rug.nl/ocasys/fwn/vak/show?code=WLB07048
My research work:
I am also working on research into oncogenetics in the Development and Innovation section. I started working in the Genetics department in 2007 and have worked mainly on the genetics of Lynch syndrome ever since. We often host students for an internship in our research group and I am co-superviser of PhD students. My current focus is on developing new techniques to be able to detect low levels of microsatellite instability, which is the hallmark of Lynch syndrome. I really enjoy working with young researchers and showing them how great it is to explore science.
Key words: Lynch syndrome, MSI, Mismatch repair, oncogenetics, gene sequencing panels
Recent publications
Correspondence: SEMA4A variation and risk of colorectal cancer. Kinnersley B, Chubb D, Dobbins SE, ... Hofstra RM, ... Westers H, van Wezel T, Timothy Bishop D, Tomlinson I, Dunlop MG, Houlston RS. Nat Commun. 2016;7:10611. doi: 10.1038/ncomms10611.
SETD2: an epigenetic modifier with tumor suppressor functionality. Li J, Duns G, Westers H, Sijmons R, van den Berg A, Kok K. Oncotarget. 2016. doi: 10.18632/oncotarget.9368
Functional Studies on Primary Tubular Epithelial Cells Indicate a Tumor Suppressor Role of SETD2 in Clear Cell Renal Cell Carcinoma. Li J, Kluiver J, Osinga J, Westers H, van Werkhoven MB, Seelen MA, Sijmons RH, van den Berg A, Kok K. Neoplasia 2016;18(6):339-46. doi: 10.1016/j.neo.2016.04.005.
CoNVaDING: Single Exon Variation Detection in Targeted NGS Data. Johansson LF, van Dijk F, de Boer EN, van Dijk-Bos KK, Jongbloed JD, van der Hout AH, Westers H, Sinke RJ, Swertz MA, Sijmons RH, Sikkema-Raddatz B. Hum Mutat. 2016;37(5):457-64. doi: 10.1002/humu.22969
Ferreira AM, Tuominen I, Sousa S, Gerbens F, van Dijk-Bos K, Osinga J, Kooi KA, Sanjabi B, Esendam C, Oliveira C, Terpstra P, Hardonk M, van der Sluis T, Zazula M, Stachura J, van der Zee AG, Hollema H, Sijmons RH, Aaltonen LA, Seruca R, Hofstra RM, Westers H. New target genes in endometrial tumors show a role for the estrogen-receptor pathway in microsatellite-unstable cancers. Hum Mutat. 2014;35(12):1514-23. doi: 10.1002/humu.22700.
Ferreira AM, Tuominen I, van Dijk-Bos K, Sanjabi B, van der Sluis T, van der Zee AG, Hollema H, Zazula M, Sijmons RH, Aaltonen LA, Westers H, Hofstra RM. 2014. High frequency of RPL22 mutations in microsatellite-unstable colorectal and endometrial tumors. Hum Mutat. 2014 Dec;35(12):1442-5. doi: 10.1002/humu.22686.
| | |
| --- | --- |
| Laatst gewijzigd: | 20 juni 2016 16:14 |